PPL training - Navigation 3 - Stage check
| 3 minutes read,
574 words
The third stage check was the navigation stage check. As with the other two, I needed another instructor for this check. It took a total of four tries to make this lesson happen. In the end, I had to travel to Sola and rent one of their airplanes.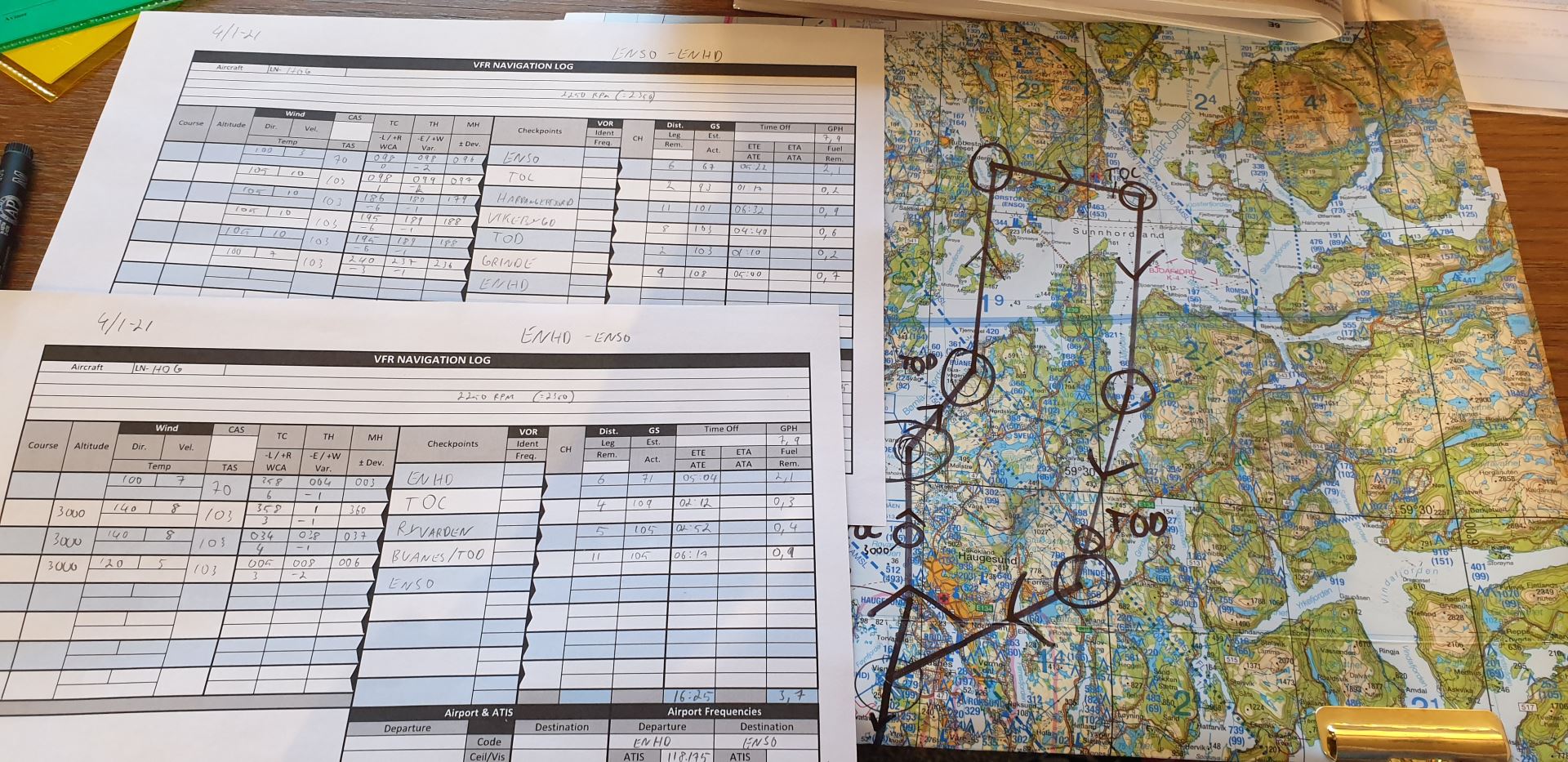 The initial plan was to fly from Karmøy to Sørstokken and back. And it almost happened, twice. The first time I met the instructor at the airport, we had a (long) briefing, and had to go back home when the airplane never returned from the previous booking that day.
The second attempt ended in ~40 minutes of trying to start the engine, without any luck…
Sola to the rescue
Since I needed another instructor anyway, and Sola Flyklubb has plenty of them (and an airport that wasn't closed on Saturdays), I decided to just book a hotel, and drive down there. Haugaland Flyklubb is considered a subsidiary of Sola Flyklubb for flight training purposes, so this was not an issue at all.
The new plan took me from Sola via a lot of fjords and then back to Sola - a proper sightseeing route!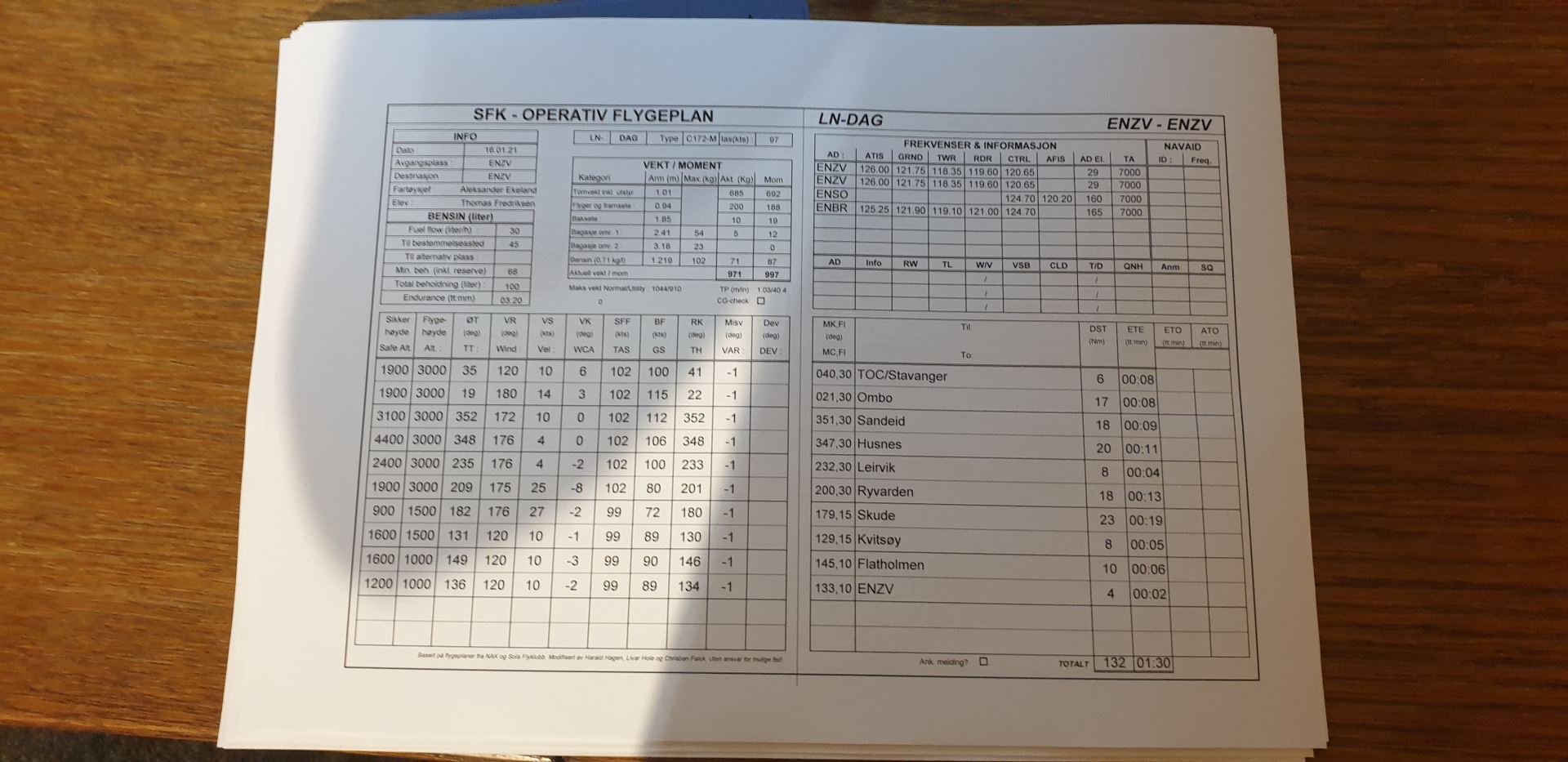 "New" airplane
Doing this from Sola also meant that I had to fly an airplane I've never flown before.
LN-DAG is a Cessna 172, just as LN-HOG, so this wasn't a problem at all - when I got past my nervousness.
The biggest fear I had was the similarity of the callsigns. "Lima Alpha Golf" sounds very similar to "Lima Oscar Golf" on the radio, and I kinda expected that I would say "Oscar Golf" out of habit. Luckily for me, I didn't.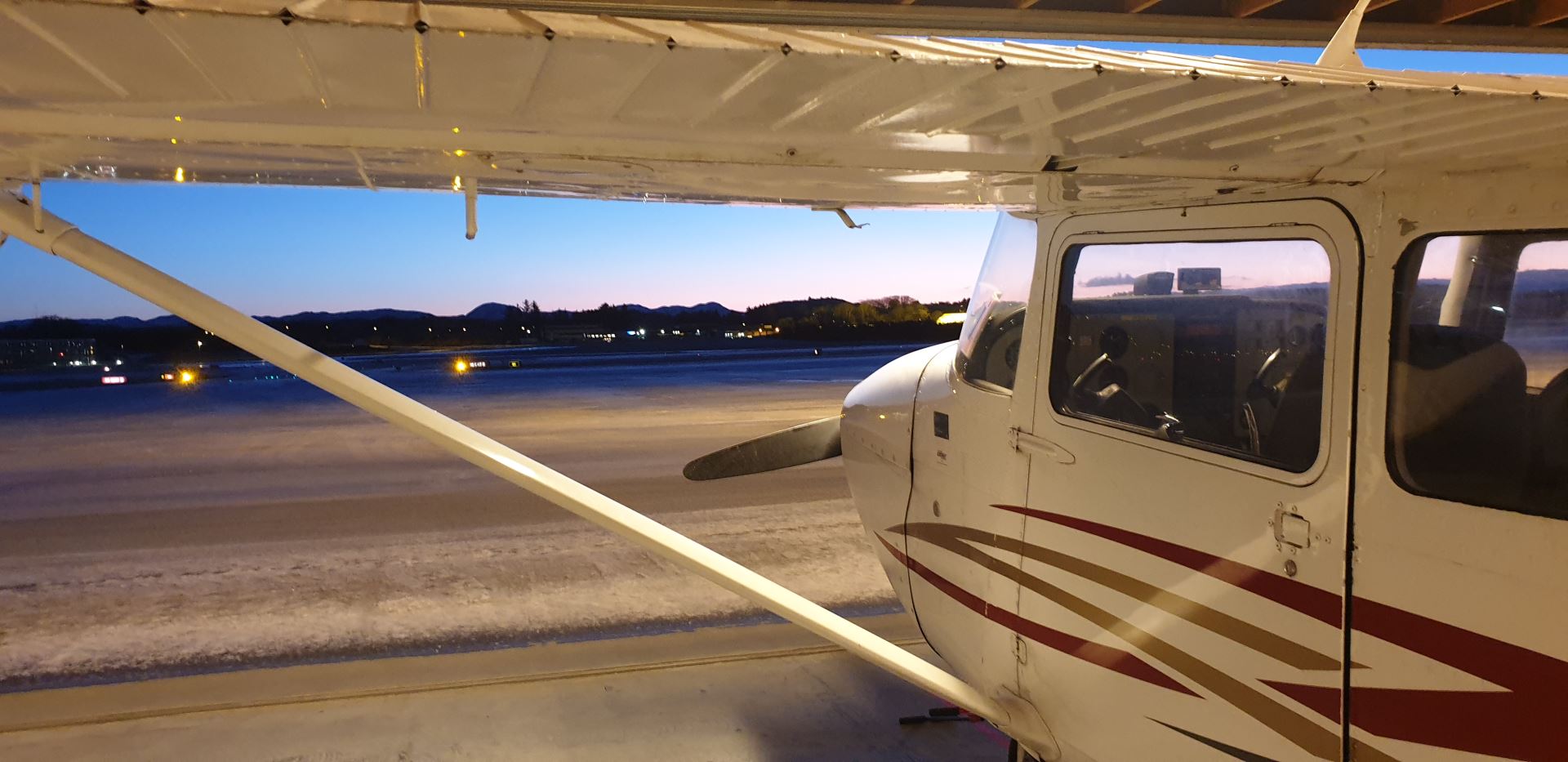 We started as early as possible, and got to enjoy the sunrise as we prepared the airplane.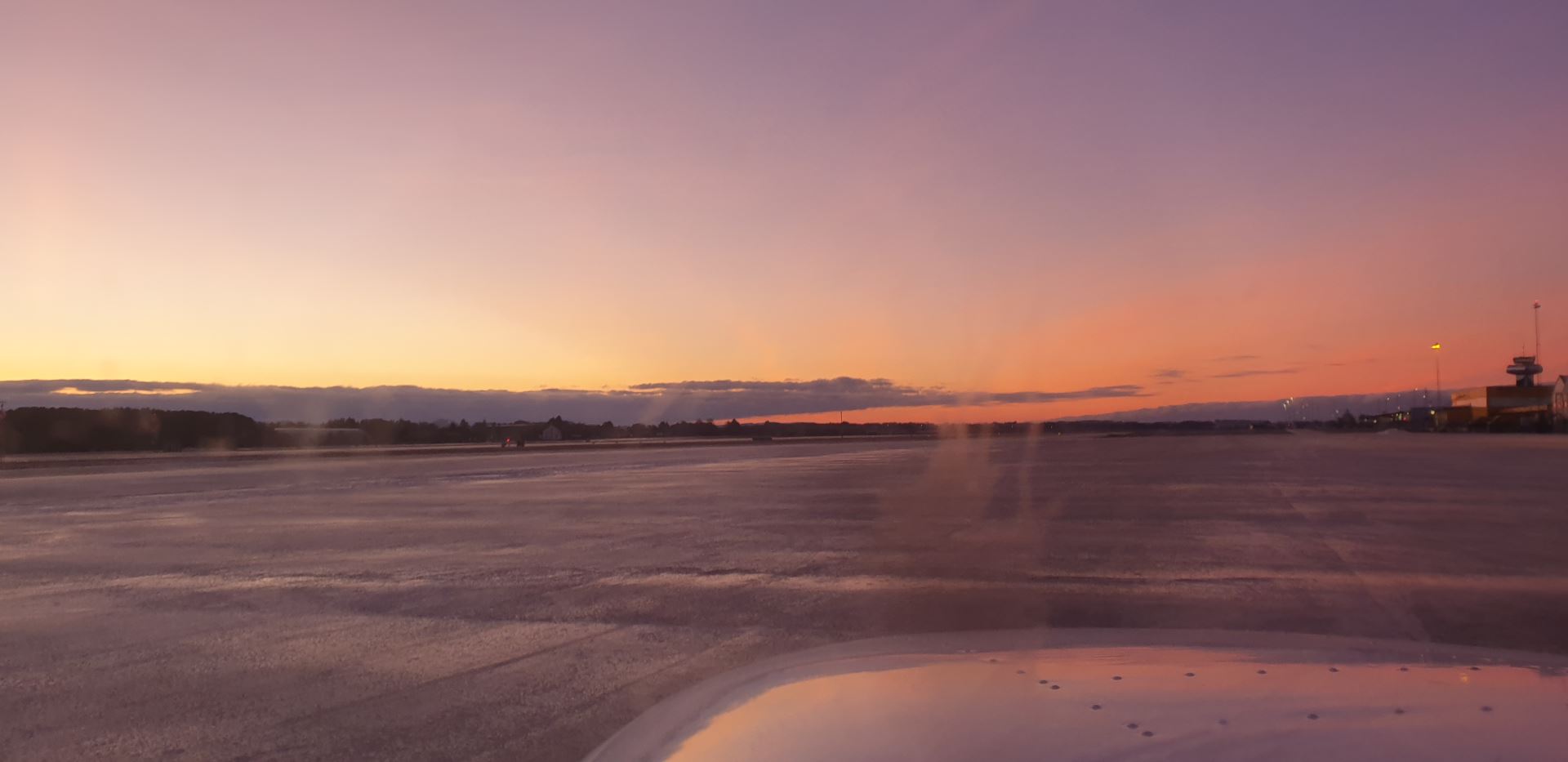 We departed Sola, and headed northeast to start on the planned route.
The winds made it a bit turbulent, but once we got clearance to climb to 5000 feet, it was smmoth flying all the way!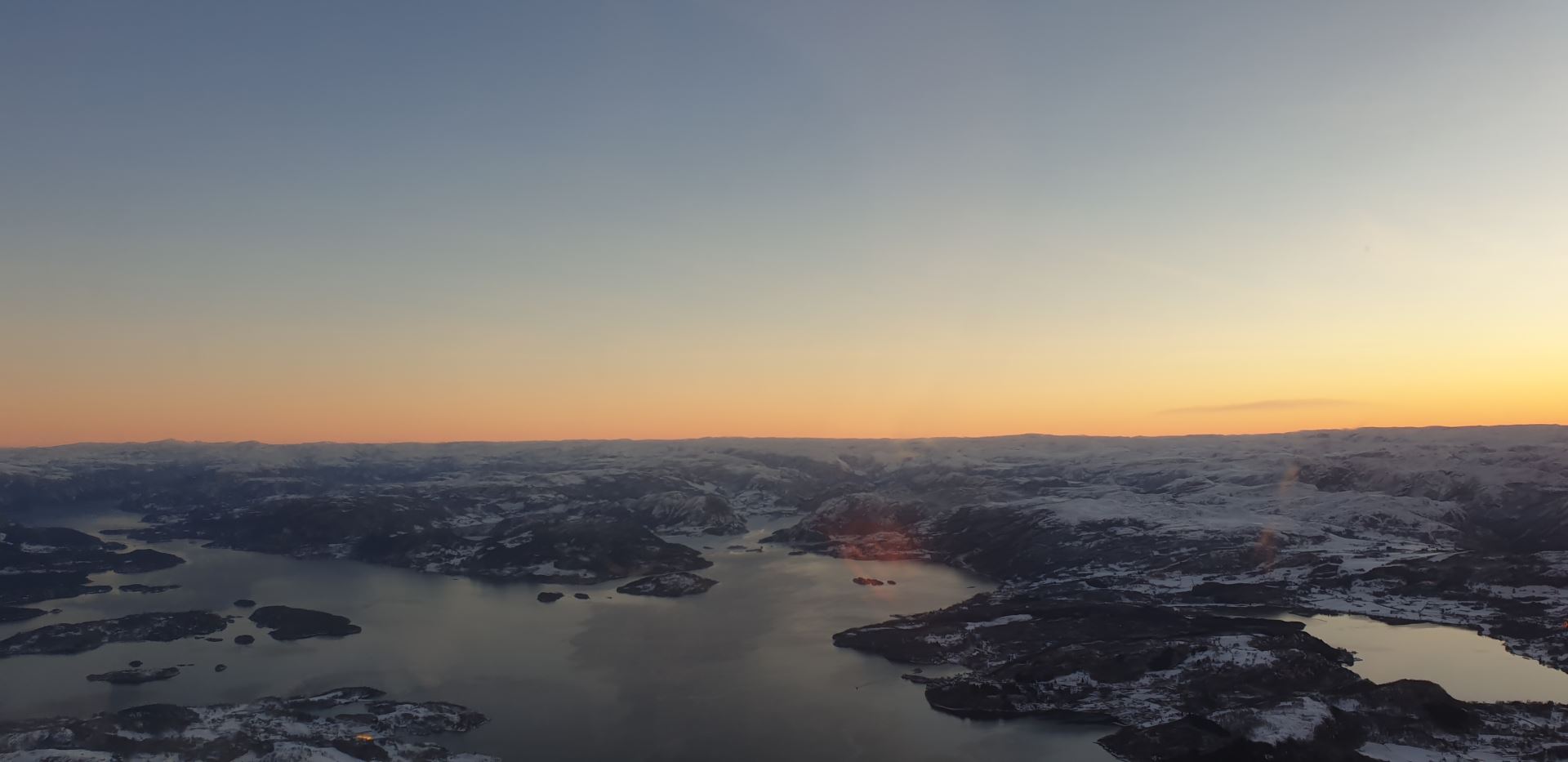 Snow covered landscapes
The most of the flight took us along snow covered mountains and landscapes.
I've never really liked snow, but seeing it from up here kinda make me appreciate the beauty of it.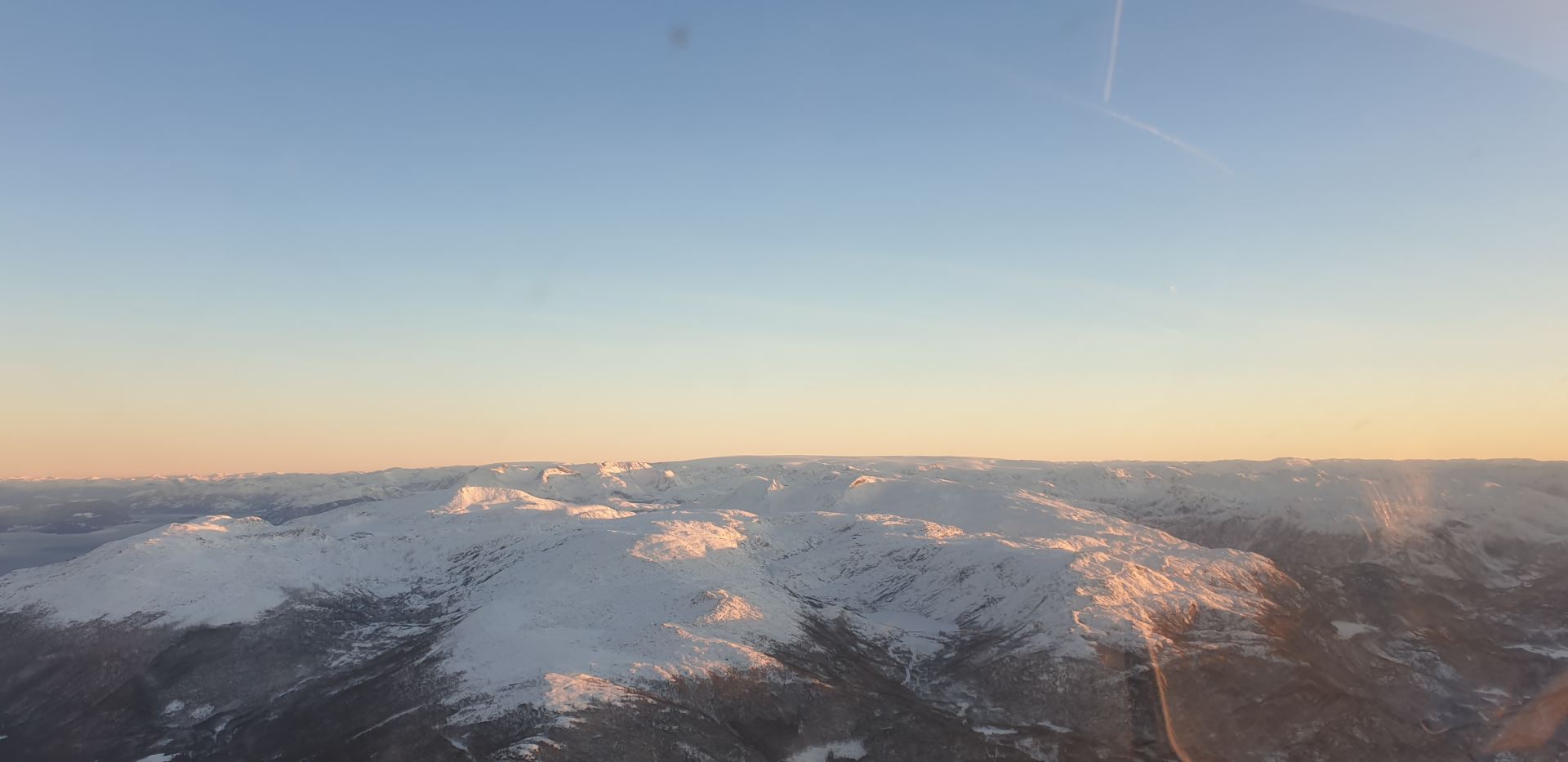 Just as with the other stage checks, I was nervous for this one as well. But besides a sloppy departure and difficulties at maintaining the altitude at first, I had full control. I knew where we were, and I knew where we were going.
I even managed to switch from Sola to Flesland and receive proper clearance literally seconds before entering the next airspace (I was prepared to take a 360). I've been doing all my training in controlled airspace, which has given me extremely valuable lessons on always knowing where I am allowed to fly.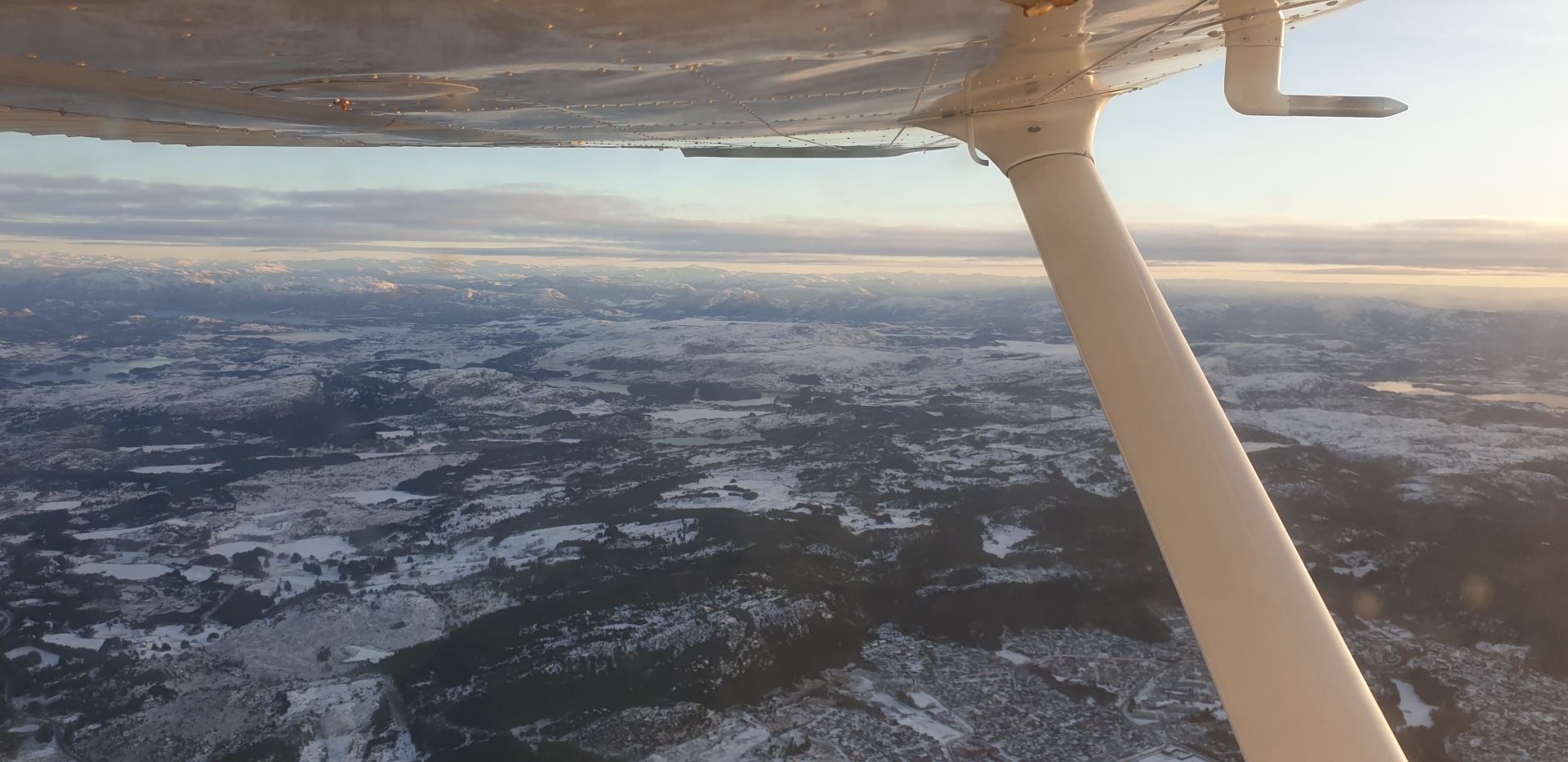 A familiar sight
Once we made it to Haugesund I was in an area I know very well, so the rest of the flight back to Sola was very easy!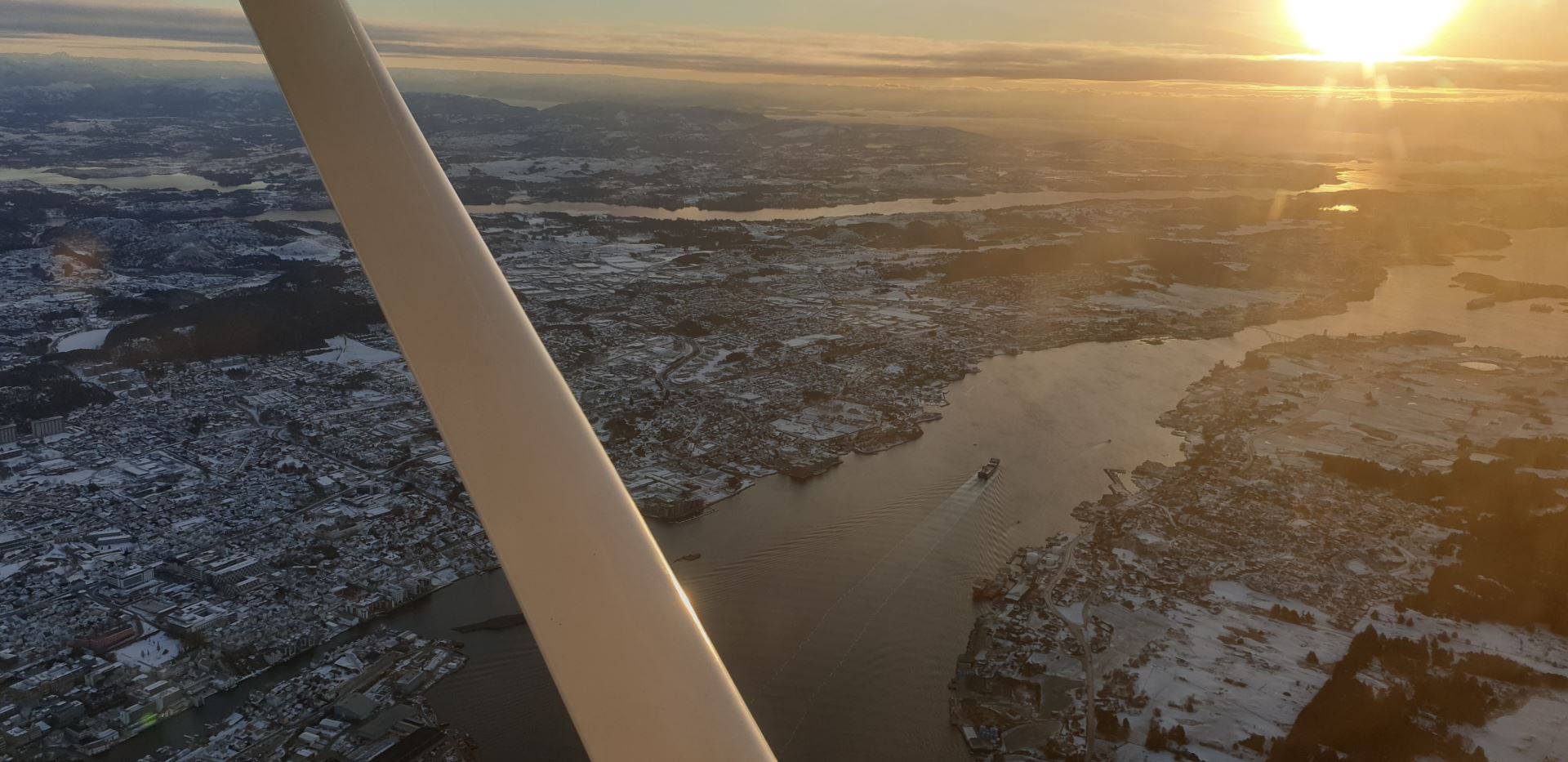 Flying this high above ENHD is not something I usually do, I'm always inside the control zone, not high above it. It was a bit strange seeing the airport from this angle.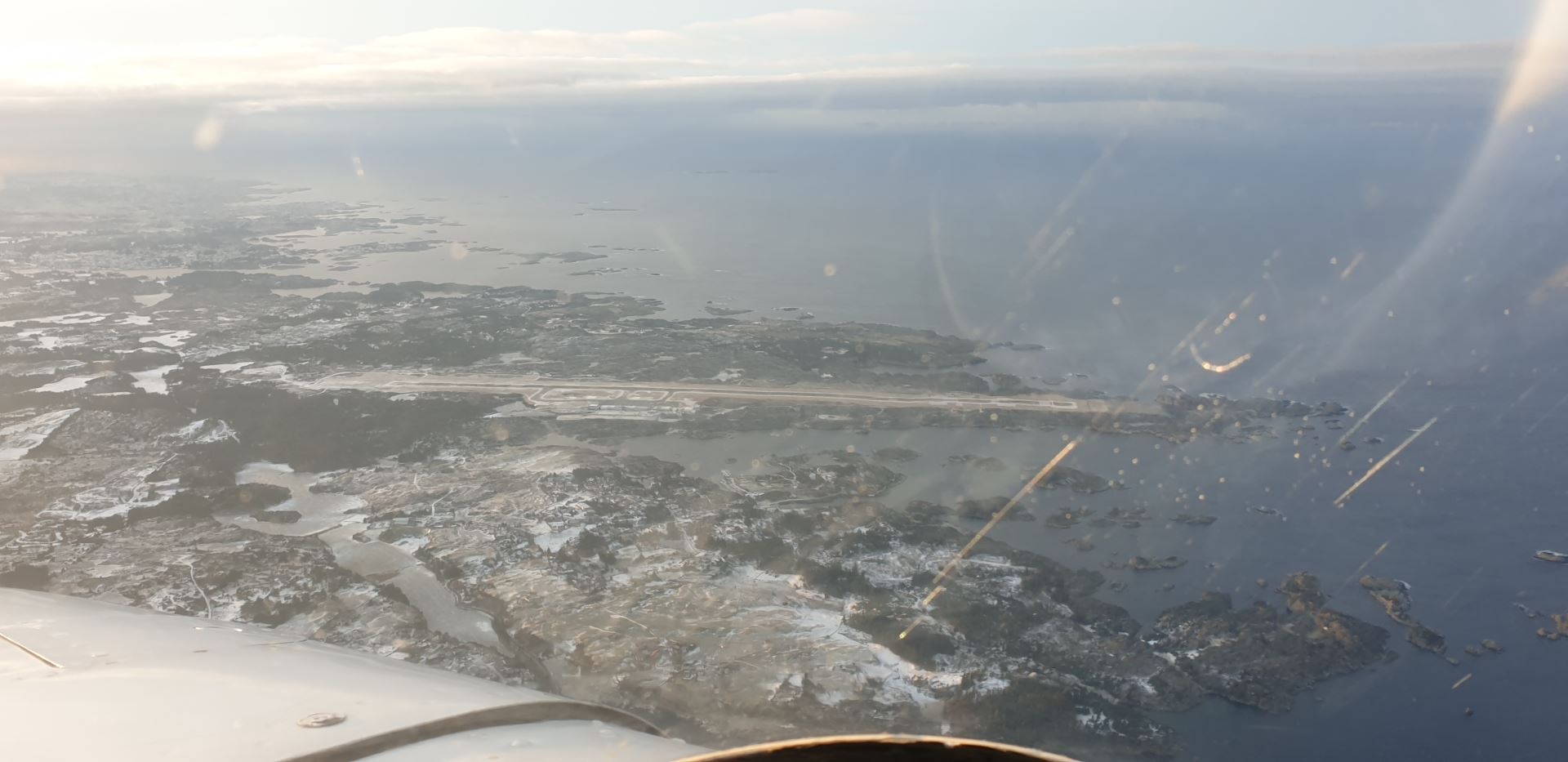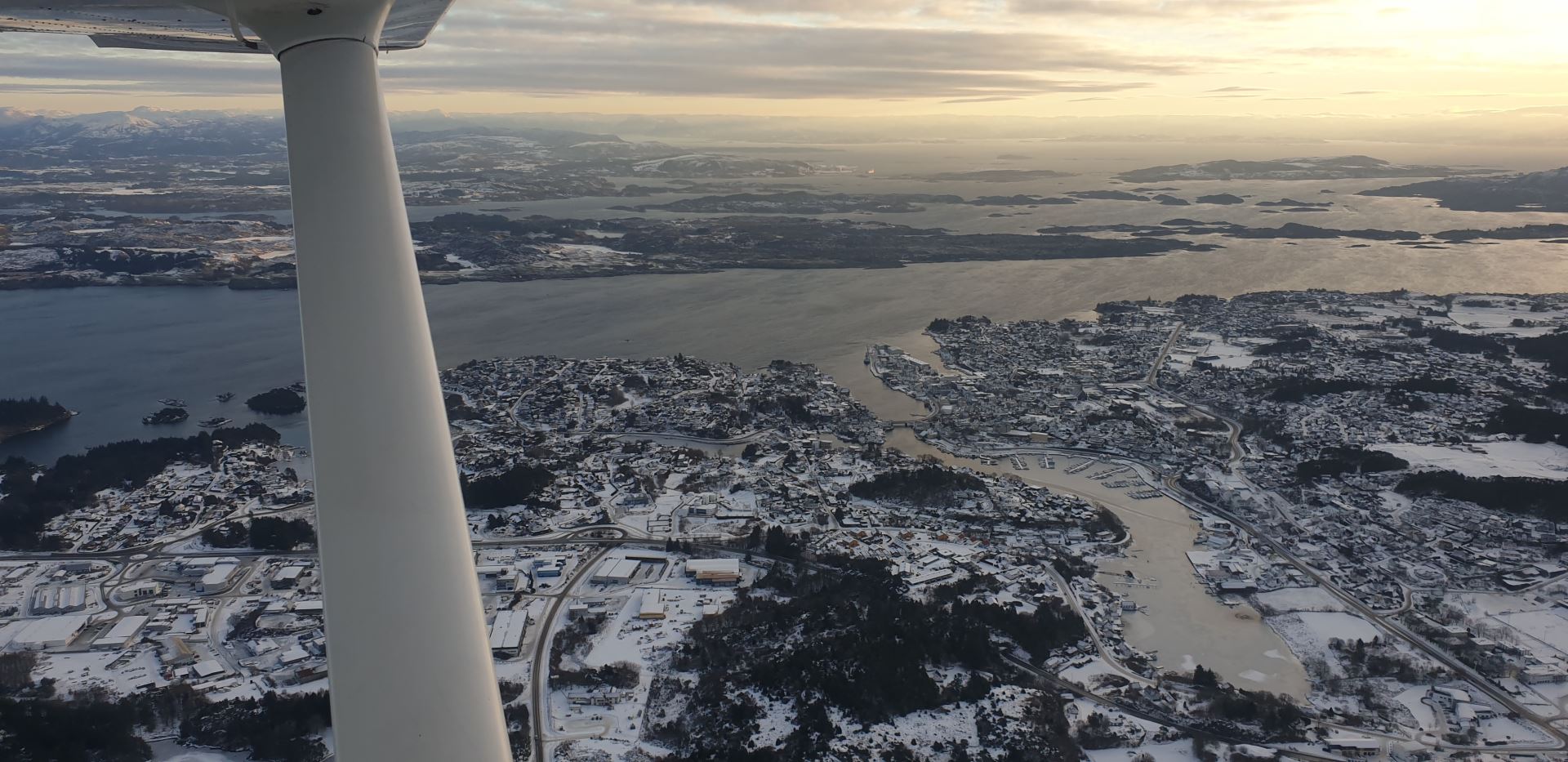 A couple crosswind landings when returning to Sola
When we arrived back at Sola we ended the flight with three crosswind landings. I already knew I needed more training on this, and the instructor told me the same.
But I passed the navigation check! And I'm very pleased with that!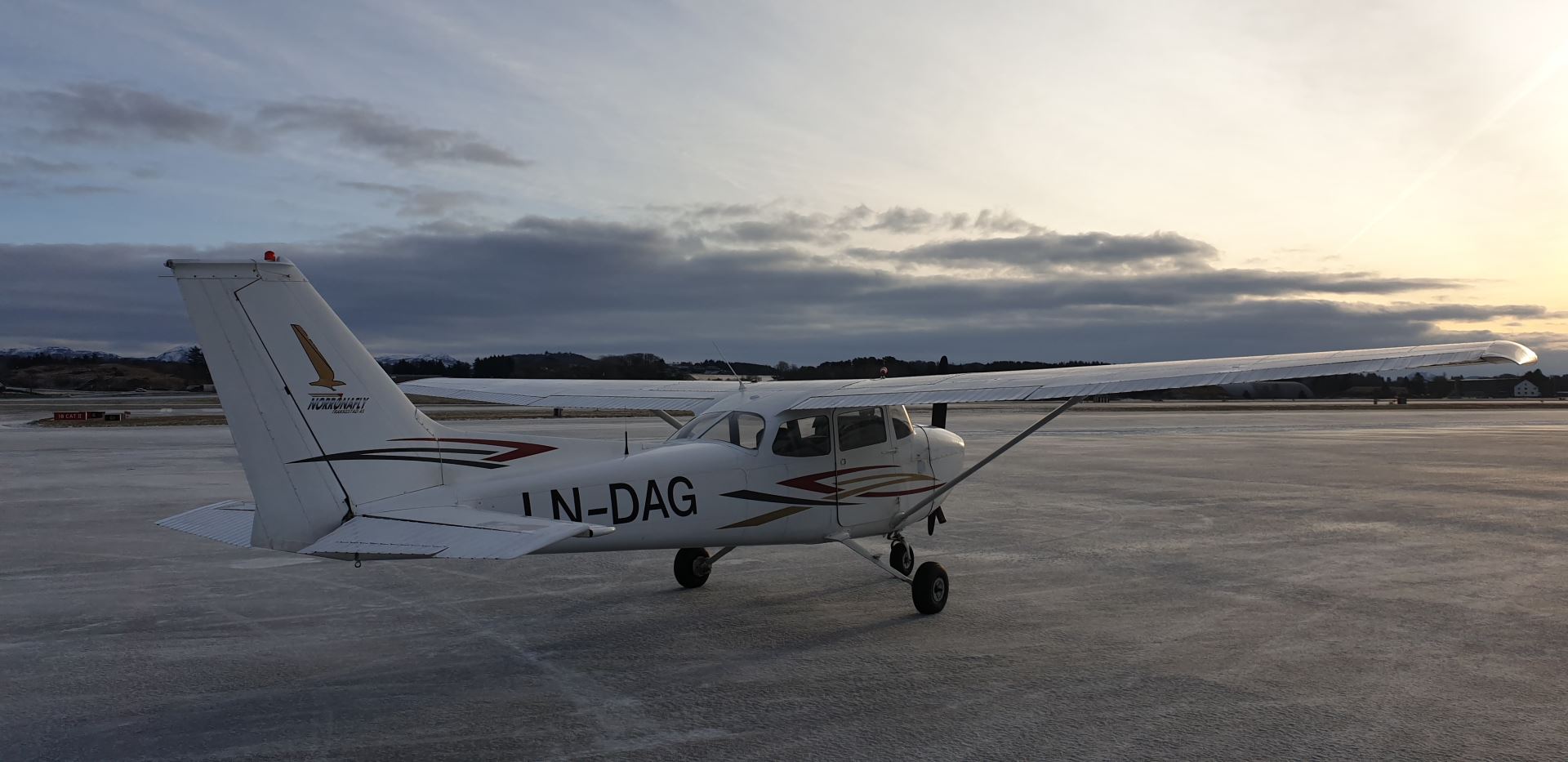 Gallery