Road to FI - It's official!
| 4 minutes read,
807 words
Yesterday I finally received my new certificate, with the FI(A) rating added! It took about one and a half month, just as expected.
And there it is! FI(A) SE, Restricted, LAPL only
The last two parts I have to get rid of, the last one as soon as possible.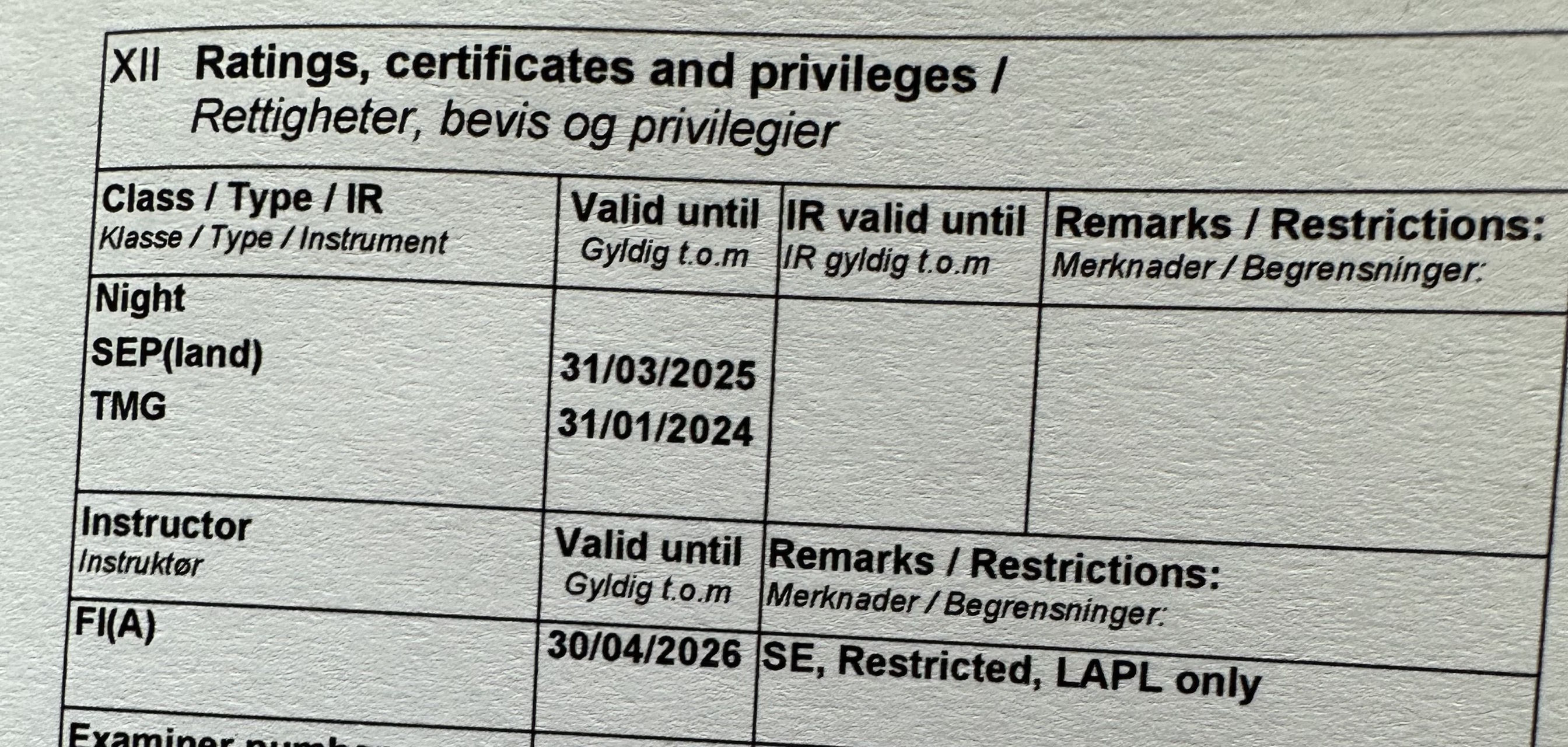 Make sure you include everything
A couple weeks ago I got a copy of an email from the Norwegian CAA to the examiner in Hungary, the important part of it:
To continue the process we need a copy of the flight log book showing applicable training according to FCL.915.FI FCL.930.FI and form NF-1165 section 11
I made sure that we included a copy of my logbook when we filled out the NF-1165 form, but only the last page. I was so focused on ensuring that the last page was added, that I didn't even stop to think about maybe including the other two pages with the relevant entries from the FI training.
Since I have every page backed up in OneDrive, I was able to provide the relevant pages within minutes after receiving the email.
The next day I could see a few things added to My page on luftfartstilsynet.no:

LAPL only
The LAPL only restriction is because I only have PPL, and still haven't done the CPL theory. I need to complete the CPL theory exams to have that restriction removed. I already asked Luftfartstilsynet (CAA Norway) about the process, and I simply have to send them a copy of the exam certificate and tell them I want the restriction removed.
Since I am restricted, I need to do all instruction inside a DTO/ATO and under supervision of a unrestricted FI. That will be Sola Flyklubb, which is the DTO Haugaland Flyklubb is under, and where I got my PPL.
There are zero LAPL students in Sola/Haugaland Flyklubb, and neither of the clubs advertise this as an option. Which means that until I get the theory done, I can't actually do any instruction. At least not in the air.
The flexibility of being in the EASA system
One of the biggest problems with the theory, except for having to study all of it, is the limited availability of test centers and test times. When I took the PPL theory exams, in the middle of the pandemic, I could simply book any available time slots at any of the Driver and Vehicle Licensing Office (trafikkstasjon). The closest one being a 10 minute drive away from me.
CAA Norway is using the Driver and Vehicle Licensing Office (trafikkstasjon) for the CPL exams as well, but only two of them - one in Northern Norway (close to the university I think), and one near the major commercial ATOs in Eastern Norway. They also have limited dates and times available, requiring several days off work for just one sitting. Mondays for instance is not available at the location closest to me, so I can't take advantage of traveling during the weekend.
However, I got a nice tip that it might be easier to take it in Sweden. They have examiners and flying clubs with approved devices and exam rooms, which greatly improves the flexibility. I haven't done too much research on this yet, but I have found the list of approved examiners. It looks like Örebro is the only option outside of ATOs.
It might be worth checking into this a bit more, and maybe even some other EASA countries. This is one of the beauties of being inside the EASA system. The only limitation is that when I have started the first exam, I have to finish all of them in the same country.
Steady progress
Speaking of the theory, I am able to maintain a relatively steady pace now. Since I got back from Hungary, I have managed to complete the Human Performance and Limitations and Radio Navigation subjects. At least in the Evionica CBT. I still need to practice in Aviationexam, and maybe watch some more Bristol Groundschool webinars.
A lot of the content in both of those subjects are both interesting and useful, some of it even in my regular day job. Other parts of it however, are just crazy. A lot of it is just "learn and forget". Things you never need, and probably aren't going to remember anyway.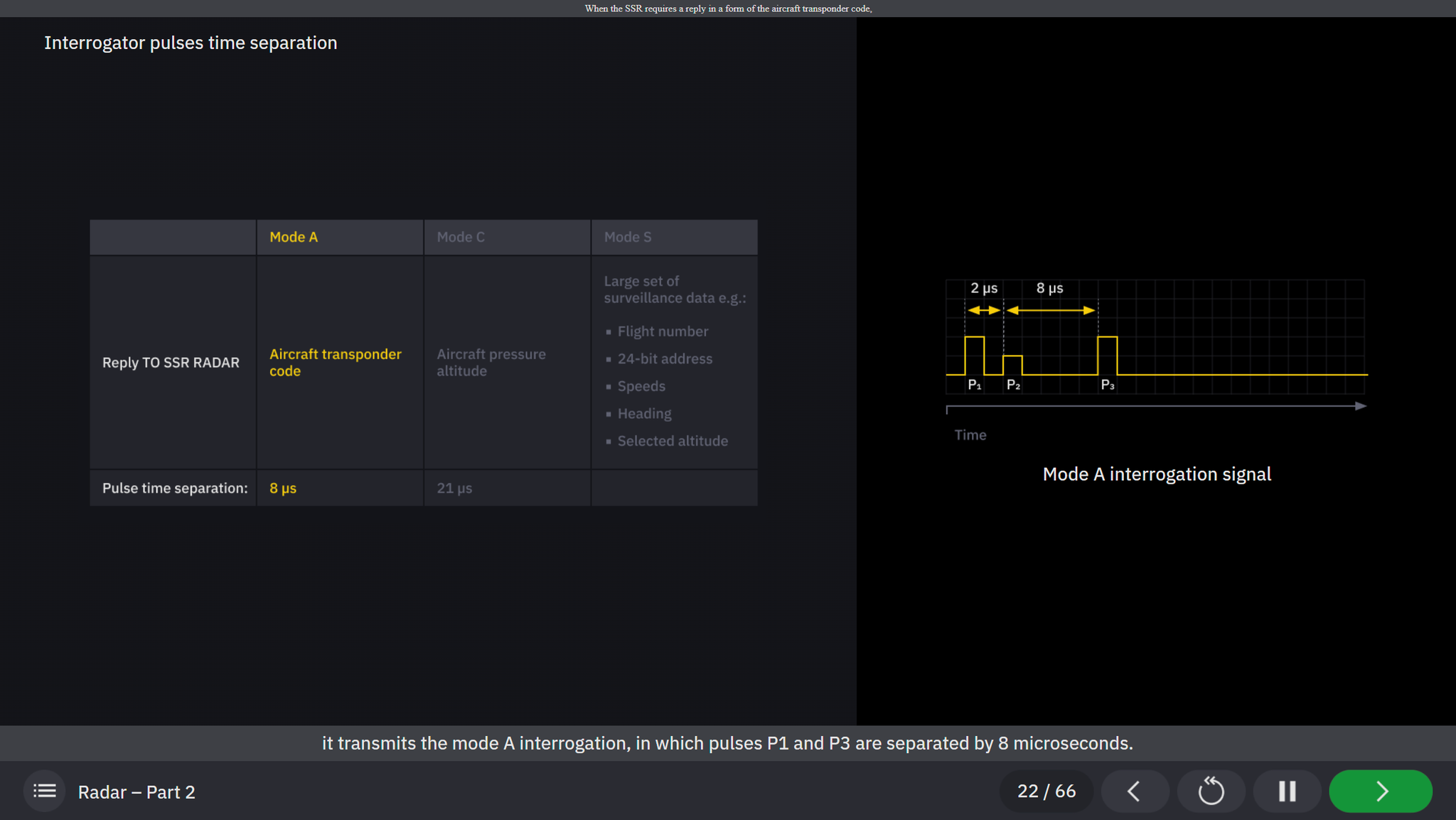 I get that we need to know about how radars work, but why do we need to learn it as deep as this?
It's not like we can use this information for anything - we're going to fly airplanes, not build sophisticated electronics (although that is fun as well).
My goal is still to be able to start doing the actual exams at the end of the summer - so I guess it's time to finish writing, and get back to studying!