Road to FI - Slow progress
| 4 minutes read,
812 words
More than two months has passed since I started studying using the Evionica CBT, and I still haven't completed more than the three subjects I was done with after the first month. I started working on Meteorology, which is both a hard and interesting subject, but haven't made much progress.
I think I focused too much on my pre-defined schedule, which made it harder to stay focused and motivated. On top of that a lot of unforeseen events (outside of aviation) took most of the time I had available to study. And with the future of the local airplane being a bit uncertain now, I started having doubts about the entire thing.
However, after thinking for a while, I still want to finish what I have started. My motivation for becoming an instructor, and the only reason I'm doing this, is because I thoroughly enjoy flying with other people, introduce them to the wonderful world of aviation, and share my knowledge. This has not changed. And I still want this. I just have to take a step back, don't get stuck looking at the broken study schedule, and remind myself of the end goal and why I'm doing this.
Recent events have reinforced my desire to teach, and I have decided to start working towards the FI(S) certificate as well, to be able to teach in the TMG we have here.
Part of the motivation behind this blog is to share my experience and the information I gather along the way in my training, but also to inspire. And by writing detailed about this process I also hope to inspire myself, as strange as that sounds.
Looking ahead
I renewed my Aviationexam subscription during their Black Friday sale (30% off), and still have more than a year left on my Evionica subscription. So there is really no reason to rush. I do however still need to progress a bit faster than I have lately.
Shortly after the previous blog post I started talking to Flygerskolen.no, to see if their Flight instructor course could be something for me.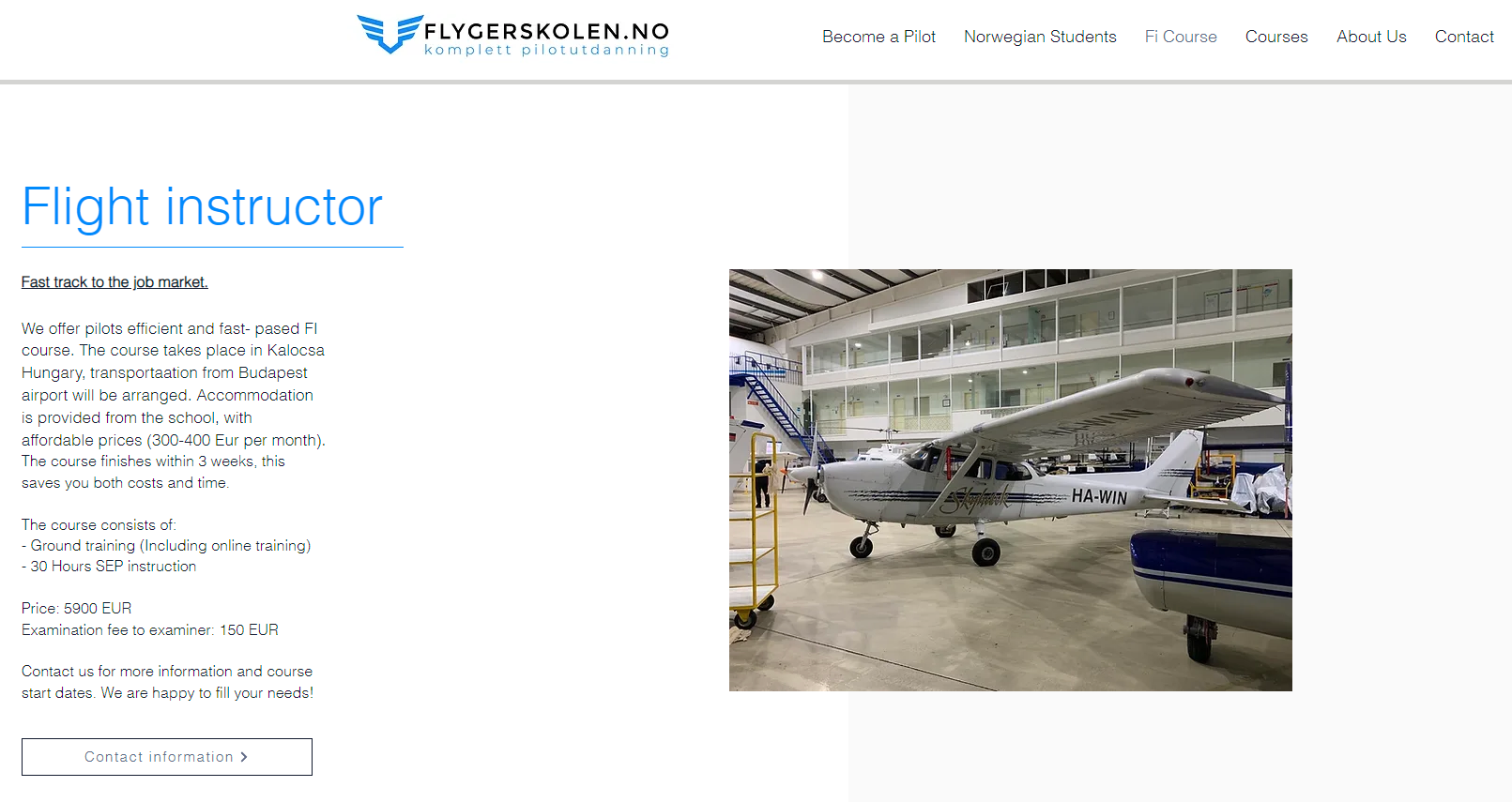 After a couple emails I settled on a plan where I travel to Hungary to do intensive practical training in April 2023. This includes both the ~5 hours I need of dual instrument, and the FI training itself.
And I still want to stick to this plan.
What about the theory
I still have to do the CPL theory to be able to instruct PPL students, but I don't necessarily have to complete all the exams before doing the practical training.
So to give myself a bit more wiggle room, and to avoid burnout, the new plan is to do as much as I can before I travel to Hungary, and then the rest (if I'm not done) when I get home.
To quote myself:
I think I need to focus less on being exactly on schedule, and more on just getting through this. If it takes me two weeks extra, or two months, that's still nothing in the bigger picture.
To be realistic, I probably won't have time to do much more studying before Christmas. But I hope January will be the month when I finally get back to a more steady progress.
I did find this nice YouTube-channel covering several of the subjects, which I plan to watch. I think resources like this will be very helpful. If you know any other resources like this, feel free to leave a comment!
The exams
At the end of October I received the invitation to book the theory exams, so submitting the exam registration to the Norwegian CAA worked like it should. It just took about one and a half month for it to be processed.
Dear candidate,

you are invited to use LTS Register for examination purposes. Please find attached your login credentials.

Information about exam periods and booking periods can be found on www.luftfartstilsynet.no.
Why FI(S)?
One of the two airplanes we have here is LN-GJP, a motor glider. The hourly cost for that one is roughly 1⁄3 of LN-HOG, and it's just as fun to fly. My motivation for wanting to become an instructor applies to TMGs as well, and the potential for new students might probably be a lot higher with the much cheaper TMG.
Since I'm flying it more and more now anyway, I figured I might as well start working towards fulfilling the prerequisites for the FI(S) training.
The prerequisites are simple:
100 hours PIC
200 launches
So I added this to my personal requirement tracking tool, Hours:
We'll see when I make the final decision on this (have to be approved by the flying club as well), and when this will happen. But my intention right now is to work towards a goal where I will be able to instruct on both SEP and TMG.