Road to FI - First month of study
| 6 minutes read,
1174 words
| 4 comments
Almost a month has passed since I started studying using the Evionica CBT, and I have managed to almost complete three subjects. Almost because a bug in the CBT won't let me finish the third one.
I had initially made a plan I intended to follow every day, but flying and other activities got in the way half of the time. And some of the elements covered are simply so hard that I need some breaks in-between studying. But even though I am slightly behind the schedule I made for myself, I am happy with the progress.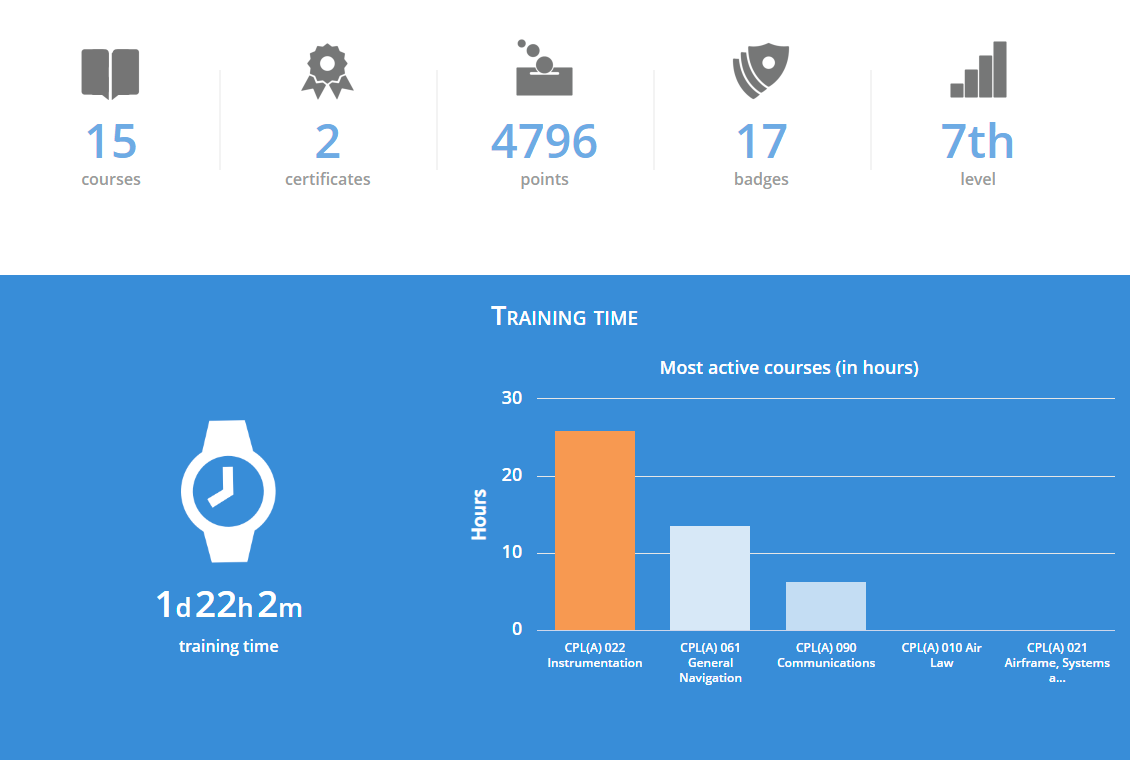 Self-study is hard, so the gamification part does actually help. There's lots of small milestones/wins, which makes it easier to forget the amount that's left until the end.
Easy start
As you can see from the infographic above (taken straight from the Evionica site), I have done Instrumentation, General Navigation, and Communications.
I started with 090 – Communications, as that's the subject I feel I have the most knowledge about (it was also the first one I did when I did the PPL exams). As a smaller subject, it also helped me get started, which did wonders for the motivation.
The hardest part, and the only part that was new, was all of the procedures for radio failure during IFR flights. The second hardest part was understanding the questions, and remembering that for some the answer that is correct is not necessarily the same as we do in real life and what I hear others do (both when I'm in the air and through LiveATC).
Oh, and remember to read every option before selecting the one that looks right…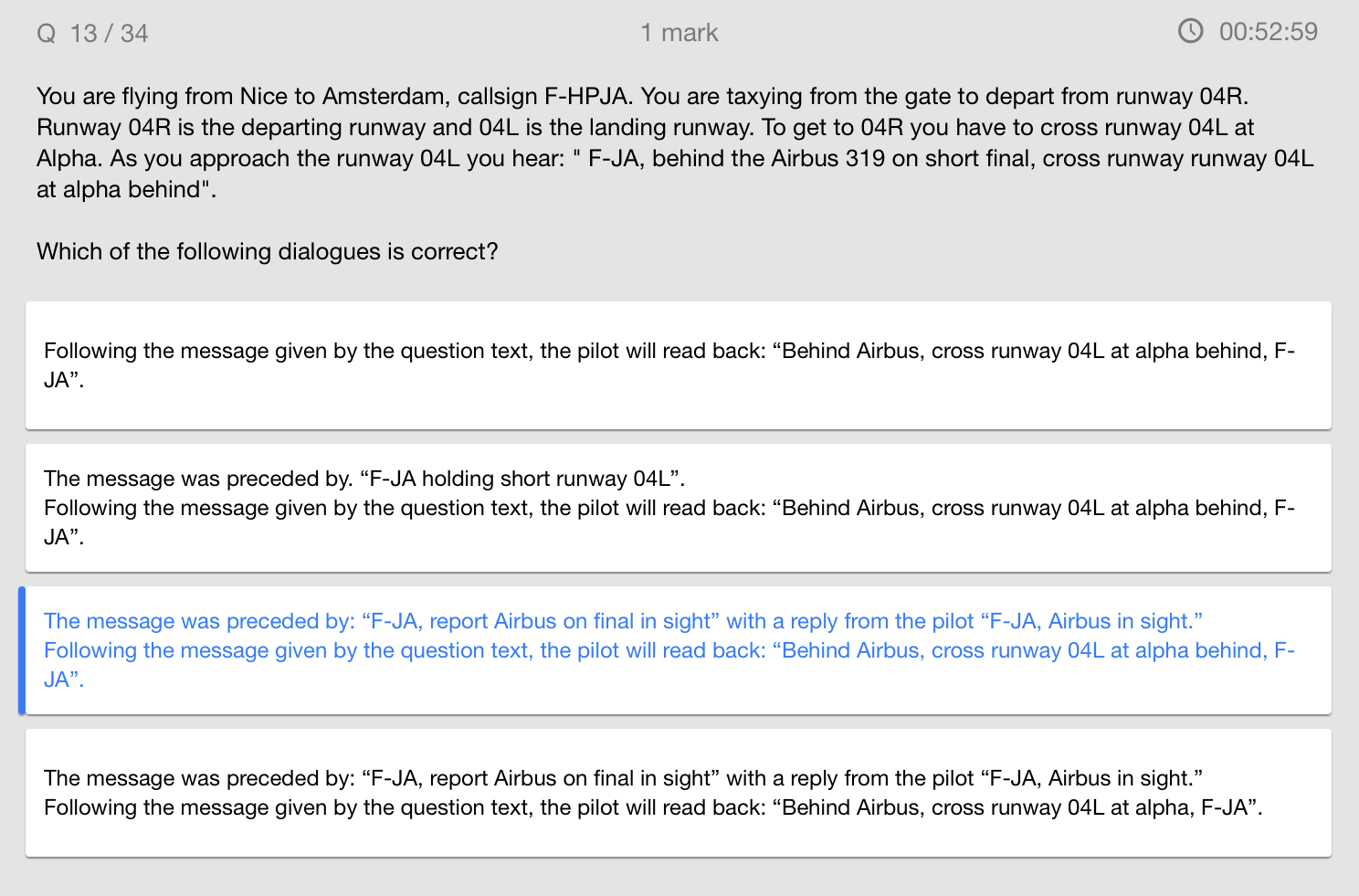 Communications is the only subject I've spent time on in Aviationexam this far, and it's motivating to see how my score has changed from a constant failed to a constant 85%+ passed (it's those IFR questions that gets me, and the ones that differ from how it's actually done).
The next one felt like hitting a wall
The next subject however, did not do wonders for the motivation. 022 – Instrumentation started with a huge first chapter (120 slides), compared to the smaller chapters in Communications (~30 - ~70 slides). It took a while until I realized that I actually know most of this - both from the PPL studies, and from my actual education (Automation technician).
The size of the chapter clearly shows in the time I spent on it, which you can see in the infographic above.
I am not a commercial pilot, or anything higher, but no matter how hard I try, I cannot understand why pilots would need to know the formula for capacitance in a sensor. It's not like you're ever going to troubleshoot on this level anyway.

While working through the slides, I suddenly got a lot of questions about autoland during a chapter test - without having read anything about it in the slides. So I contacted Evionica, and it turned out that they had included a few questions too many when they copied the content from their ATPL course. I'm just happy it was that way, and not slides that were missing!

After what felt like forever, I finally reached the end - and completed the test (the test in the Evionica system that is) - with a score of 95%. I'm happy with that!
I still need to study a couple of the elements more though, and will try to find some relevant YouTube-videos to help me with that.
What else would it be for?
Before every chapter starts, I am presented with the warning slide you see above.
CBT stands for Computer Based Training - so what other purpose than training could a CBT possibly have?
Not for navigational purposes
There's not much information about the CPL theory out there, but the two schools I have found have grouped the subjects into three parts. I'm loosely following a mix between both of them, so my third subject was 061 – General Navigation.
I still find it interesting that it has to be specified that example charts are not to be used for navigational purposes. Did someone actually try to do that?
This subject was still a lot harder than it was on the PPL level, but it didn't start as intimidating as the previous one. Which made it easier to get through. Although I did, for the first time while working on the CBTs, have to re-take a couple of the chapter tests. Several times. There's a crazy amount of formulas and calculations, which I have to keep studying even after I have completed the CBT part.
I had to bring out the museum piece, the flight computer, as well for this one. And that is another thing I need to work more on.
Test contains zero questions
I like the Evionica CBTs, I really do. But sometimes it feels like they just threw together the entire CPL course based on a copy of the ATPL course on a Friday afternoon.
There are small bugs here and there, but places where they've written ATPL when it should say CPL are easy to ignore. The last bug in General Instrumentation however is not that easy to ignore.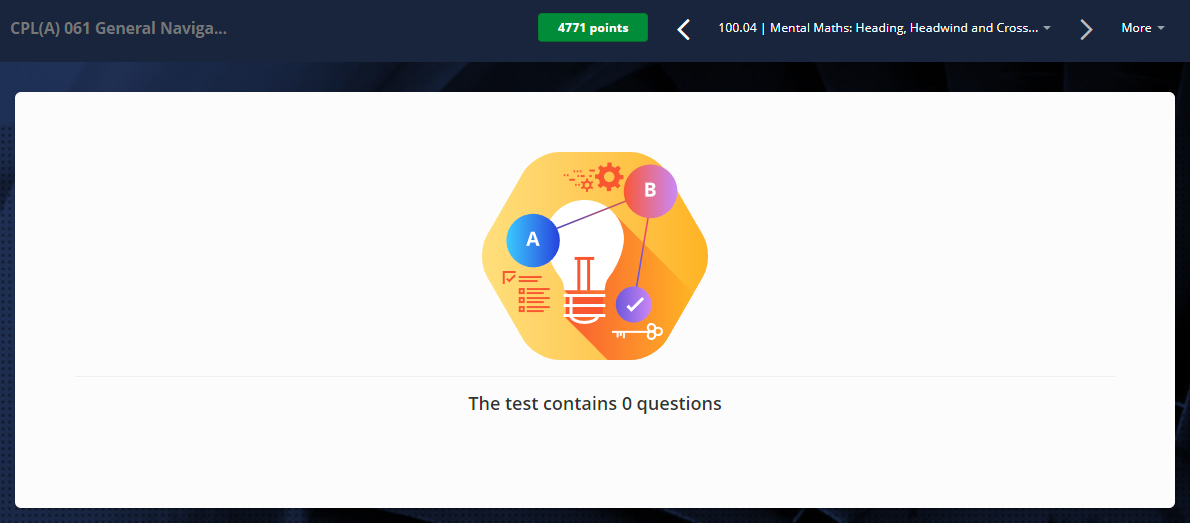 The last chapter test has exactly zero questions, which disables the button to start the test - which in turn prevents me from finishing the test. And that is a problem.
Evionica require that everything is completed in order, so I can't progress to the final test before I have completed this test. And that currently make it impossible for me to finish General Navigation.
And that's where I am now.
What's next
The next subject will be 050 – Meteorology, which I expect will be equally hard and interesting. I look forward to improving my knowledge in this area.
I also need to start working on more than just Communications in Aviationexam, because learning to "read EASA" is equally as important as studying the theory.
I am currently two chapters behind where I had calculated I should be by now in order to finish by the time I want to. I think I need to focus less on being exactly on schedule, and more on just getting through this. If it takes me two weeks extra, or two months, that's still nothing in the bigger picture.
Anyone else doing the same as me?
I still haven't heard anything from the Norwegian CAA after submitting the exam registration. Don't know if I will or not either. Given how hard it is to find information, I get a feeling that doing the CPL theory through self-study for FI(A) only is not very common…
If anyone out there is doing the same as me, have done it before, or consider doing it - it would be awesome to get in contact and share tips and experiences!
Anyone actually reading all of this, feel free to leave some encouraging words in a comment!