PPL training - Navigation 2
| 4 minutes read,
641 words
The first lesson of the year was a big one - navigation via two airports. The plan was to fly to Voss and Sogndal, but due to difficulties with PFLY (the agreement that allows us to use Avinor airports outside of the regular opening hours), and bad weather, we decided to do ENZV Sola and ENCN Kjevik instead.
And since my wife finally had some spare time, she got to join us in the backseat.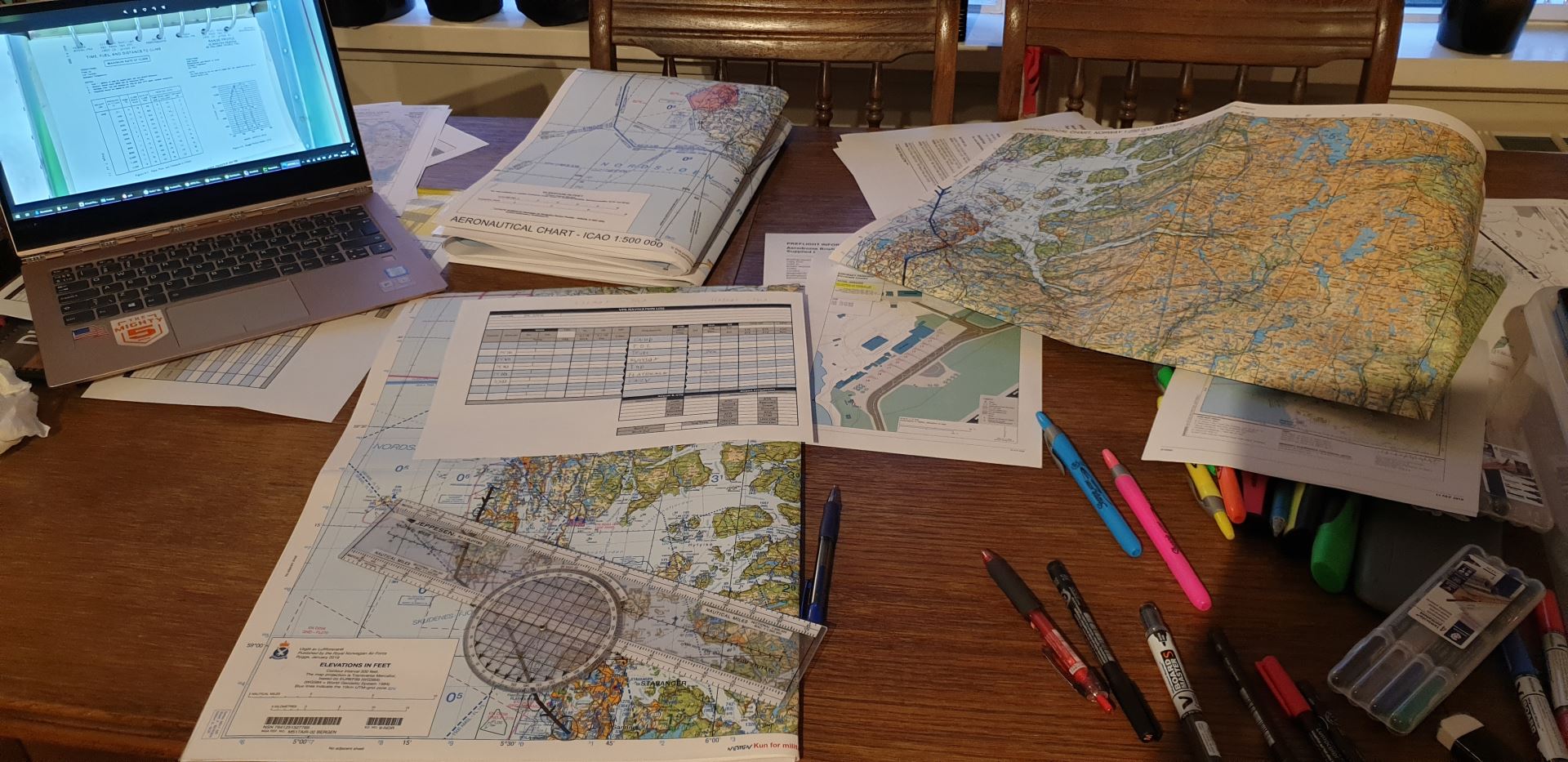 I spent the start of the year deep down in maps, NOTAMs, and weather forecasts. The result was a plan I was a bit proud of. I still had some questions for my instructor, but planning a flight is a lot easier now than it was in the beginning!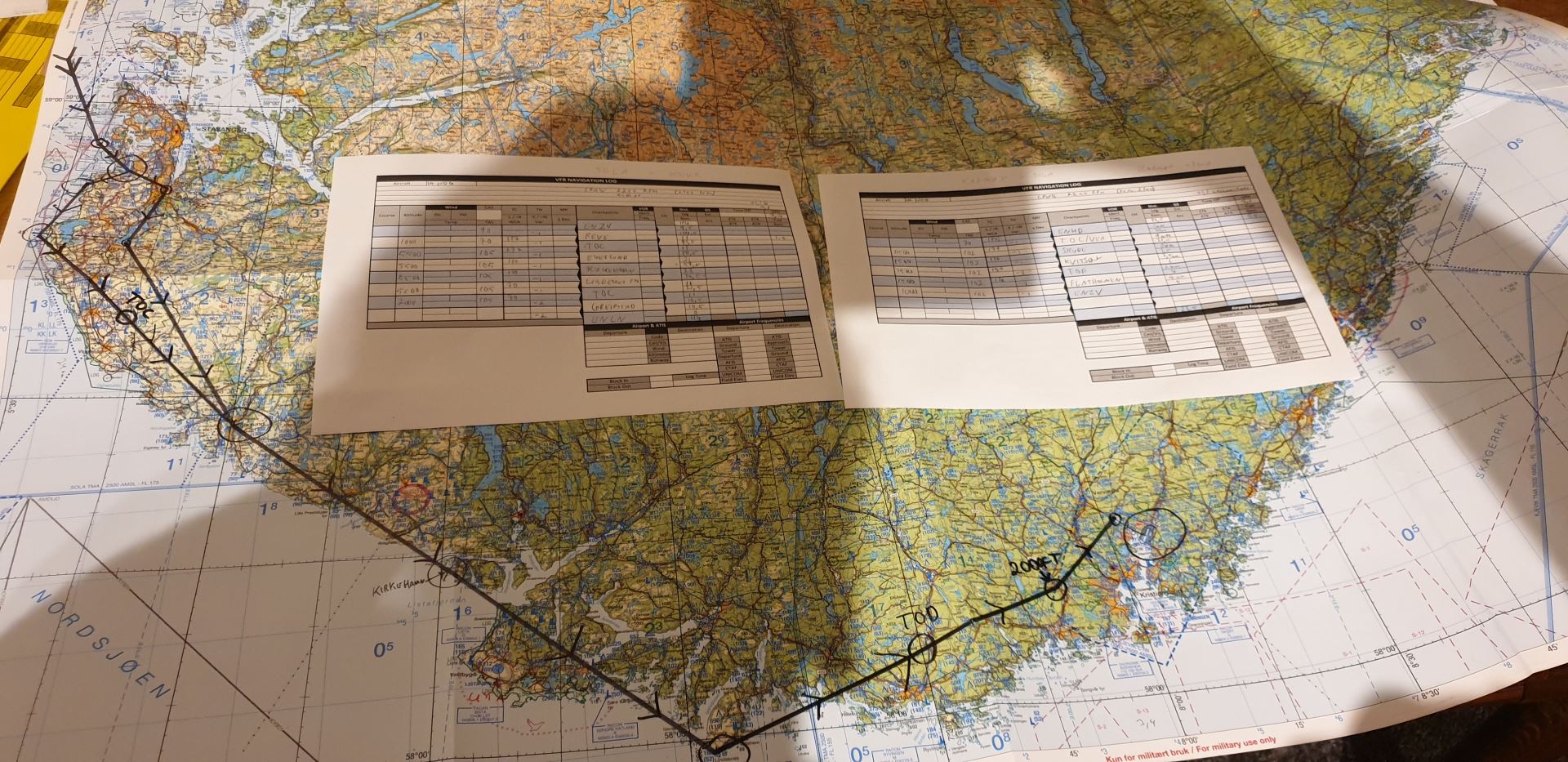 We put as much fuel as we could in the airplane, and departed Karmøy exactly on the time I had planned to depart.
A quick visit at Sola
The requirement was to visit two airports, so we started with a quick touch and go on ENZV Sola.
The wind was relatively calm, so even though we were initially told to expect runway 36, we were cleared to land on 18 after holding overhead Flatholmen for a while. This meant we could depart straight out and continue on our route southbound. Perfect!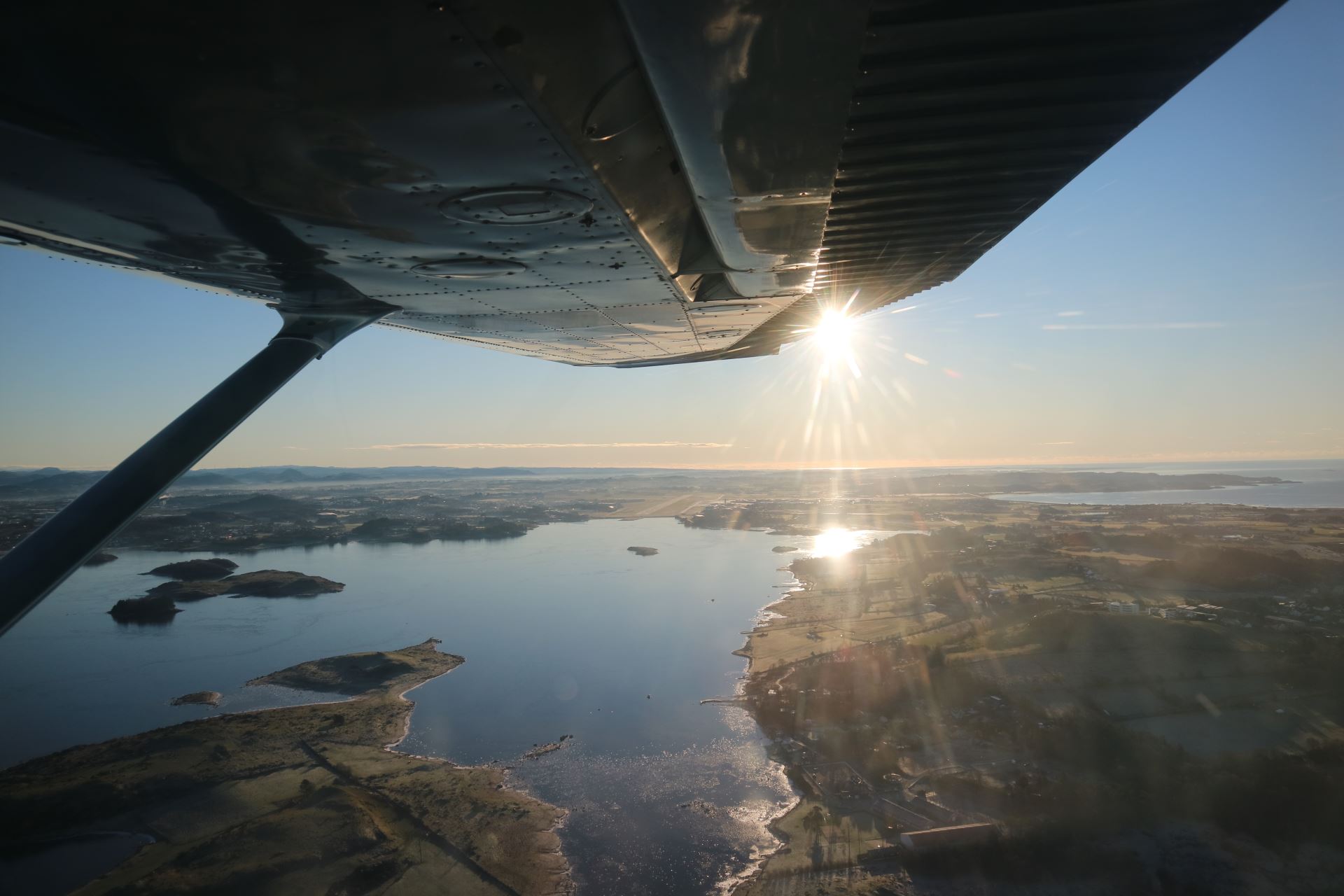 The weather couldn't have been any better this day!
South along the coast
The route took us south along the coast, which made navigating a bit easier. Cities and fjords are great features to look for when trying to match the map to the outside.
Just remember to look outside first, then on the map - not the other way around. It's very easy to make the outside match what you expect if you look on the map first!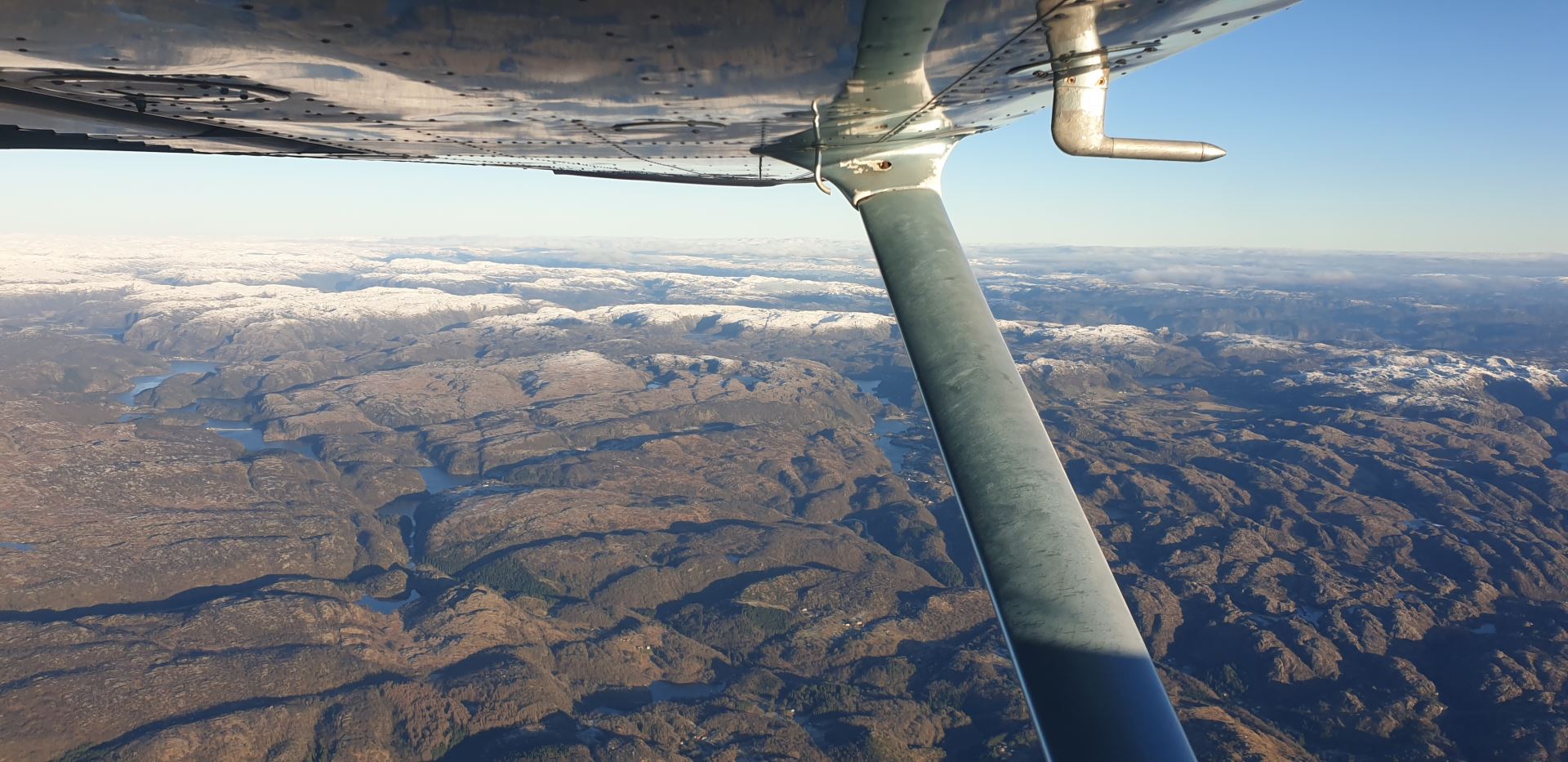 After leaving Sola TMA, I got to talk to Polaris Control for the first time. Not a huge milestone, but this was an indicator that we had ventured further away from home than on any previous lesson.
One of my navigation points was Lindesnes Light House, the southernmost tip of Norway. As everything else, it looks tiny from the air.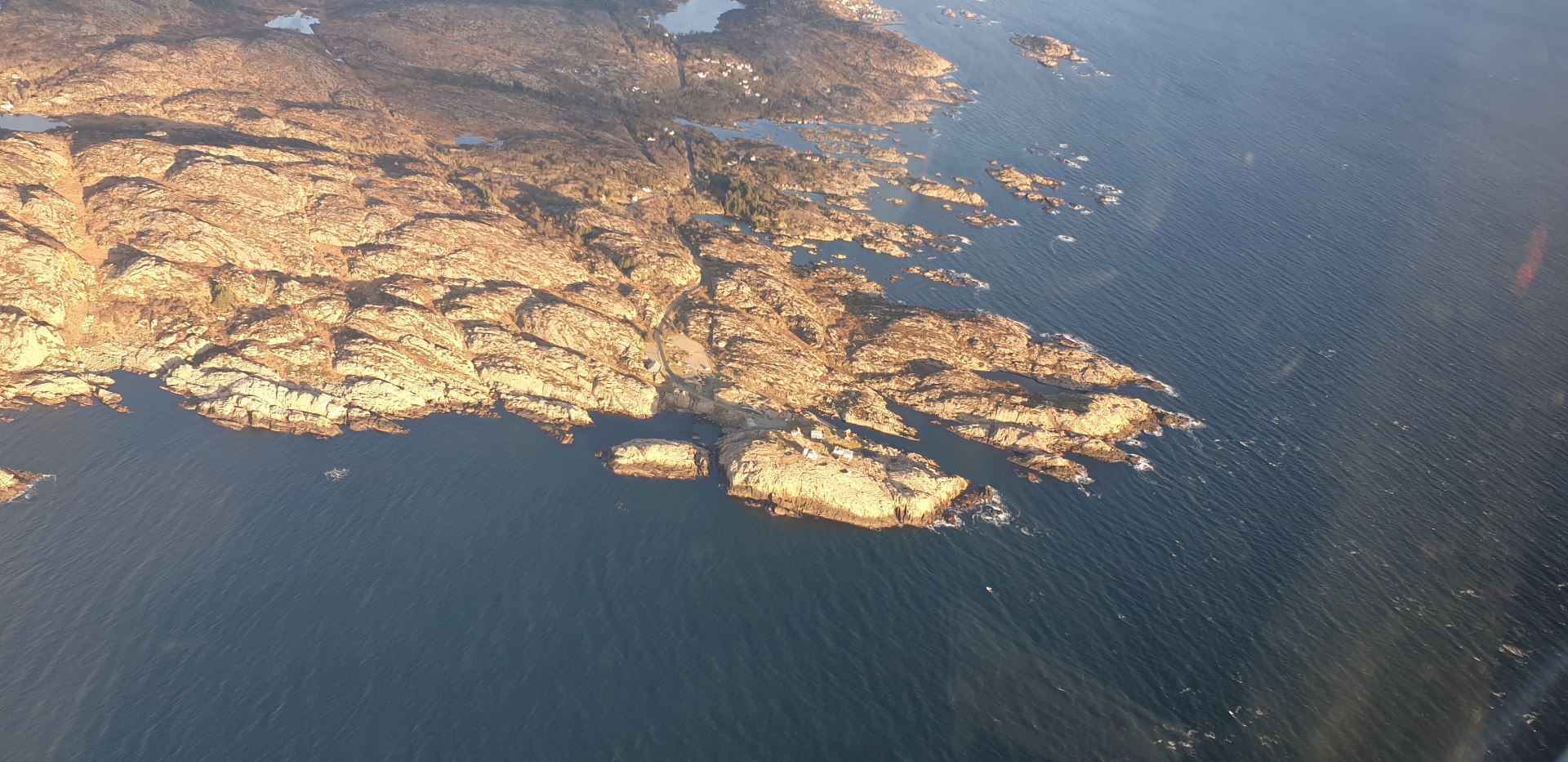 We made it to ENCN
We got some stronger headwinds for the last part which reduced our groundspeed a bit.
The hardest part about the navigation was locating the reporting points around ENCN. They probably make much more sense to the local pilots than they do to me. But we eventually made it, and got clearance to land on runway 03.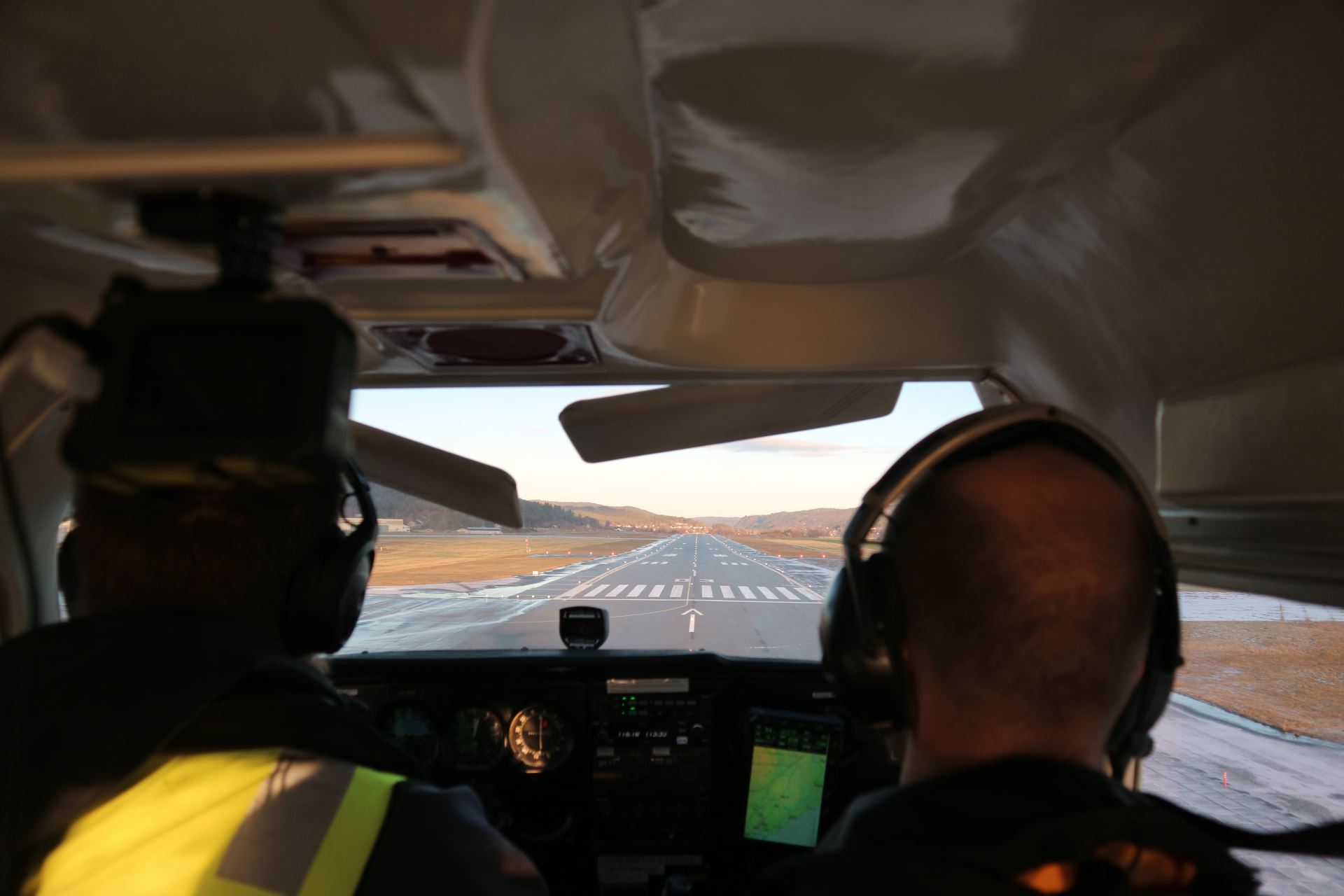 After taxiing to a parking spot, we had a short lunch break before getting ready for the return flight.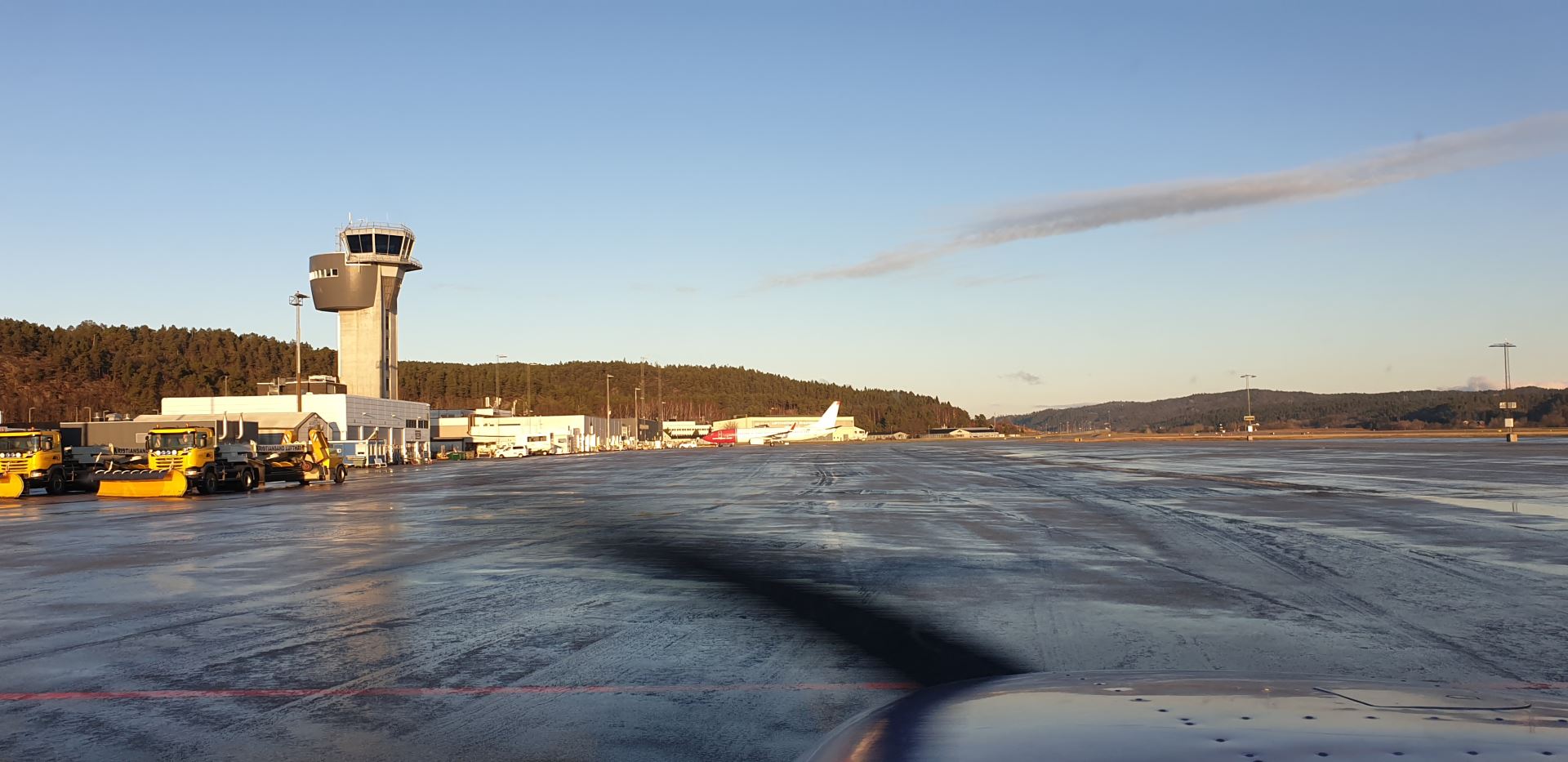 Over the mountains from far away
The route back home to Karmøy took us over the mountains, in a much more direct route. The paper charts were switched out with a more modern iPad and SkyDemon. This gave me valuable training both in basic navigation skills, and in more modern tools which I will end up using anyway.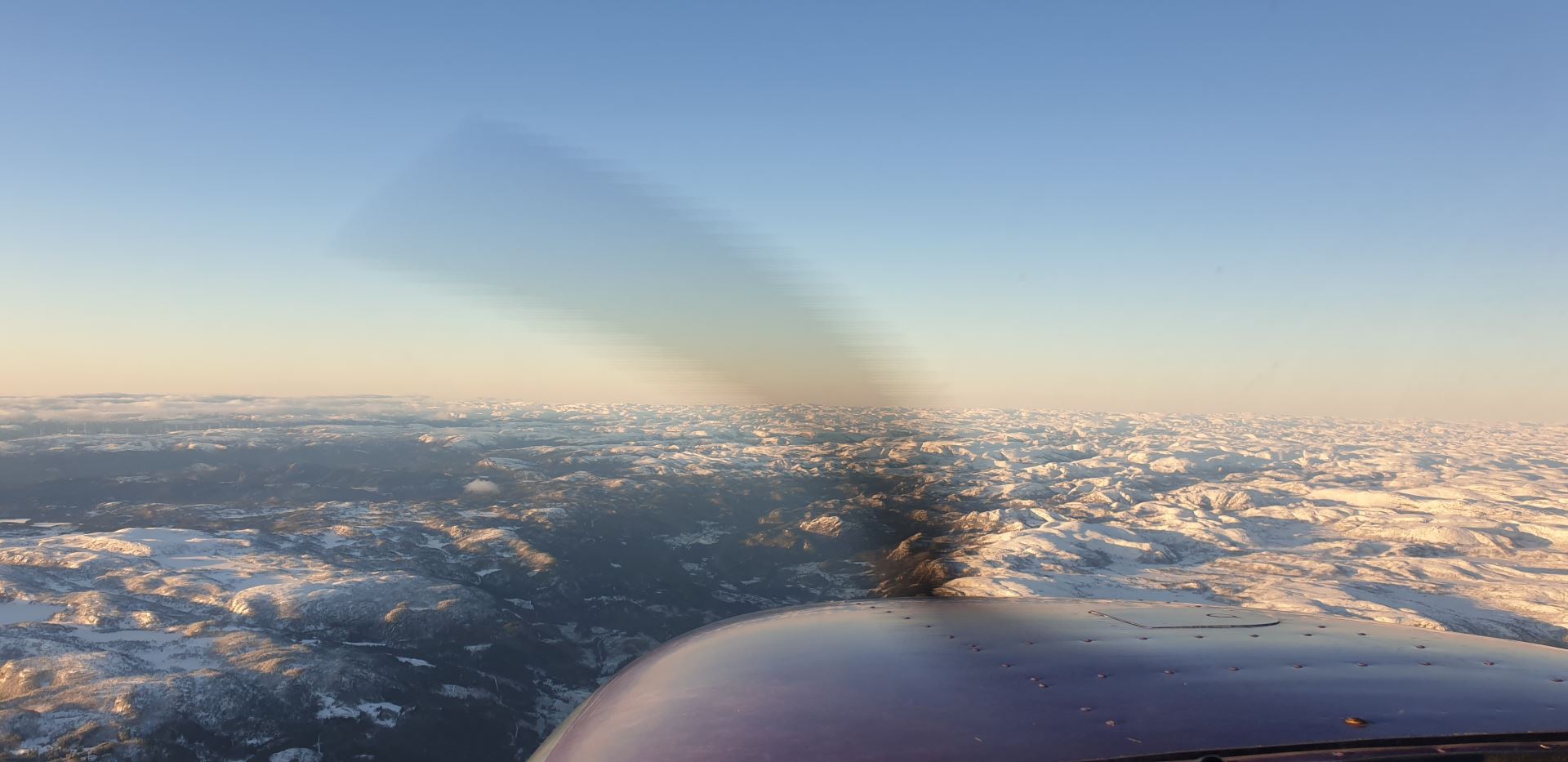 Navigating over snow covered mountains are a lot harder than navigating along the coast. Modern tools, like SkyDemon, sure help reduce the workload!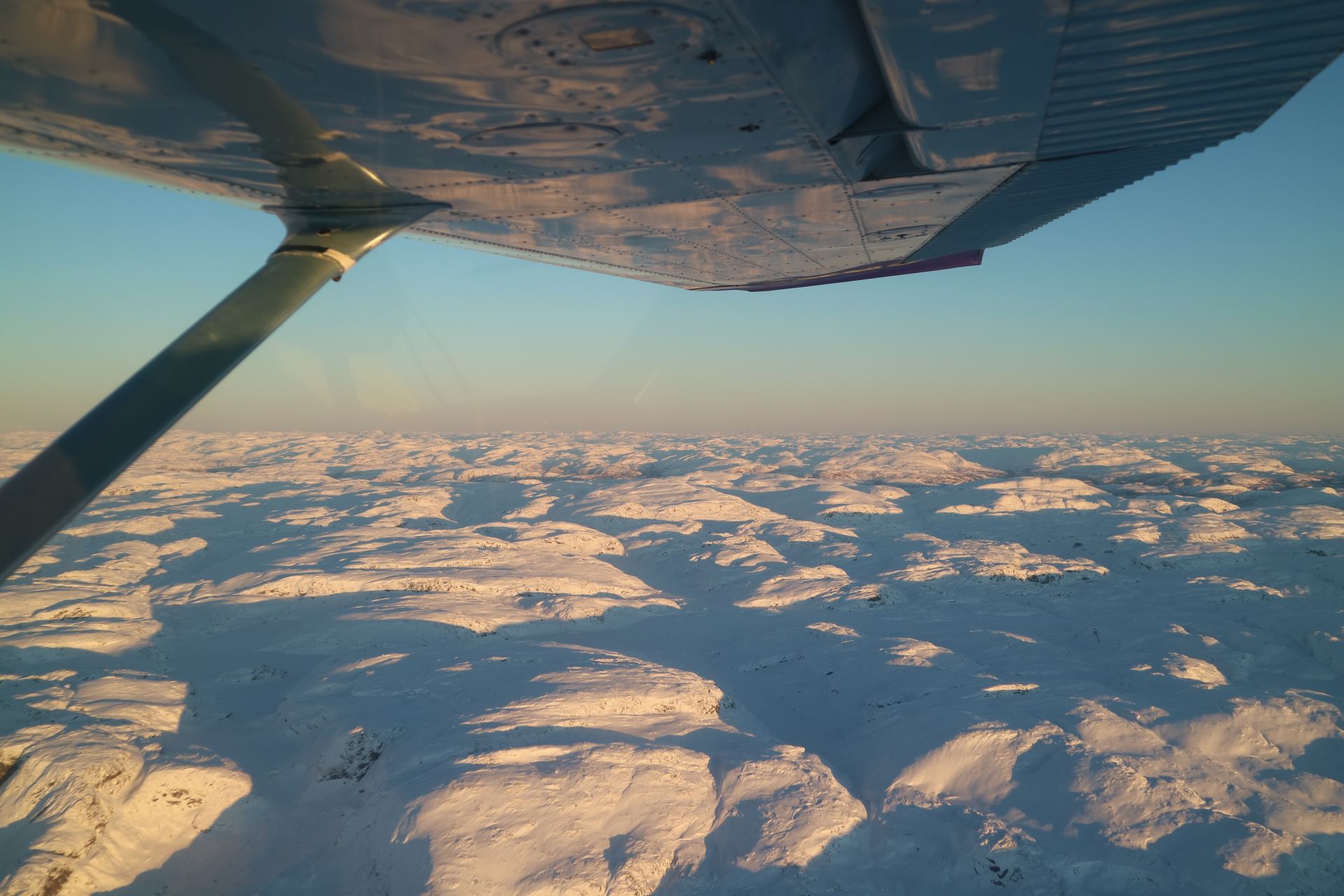 Sightseeing in Lysefjorden
Whenever I can, I like to get maximum enjoyment out of my flight lessons. So on the way north, we did some sightseeing in Lysefjorden.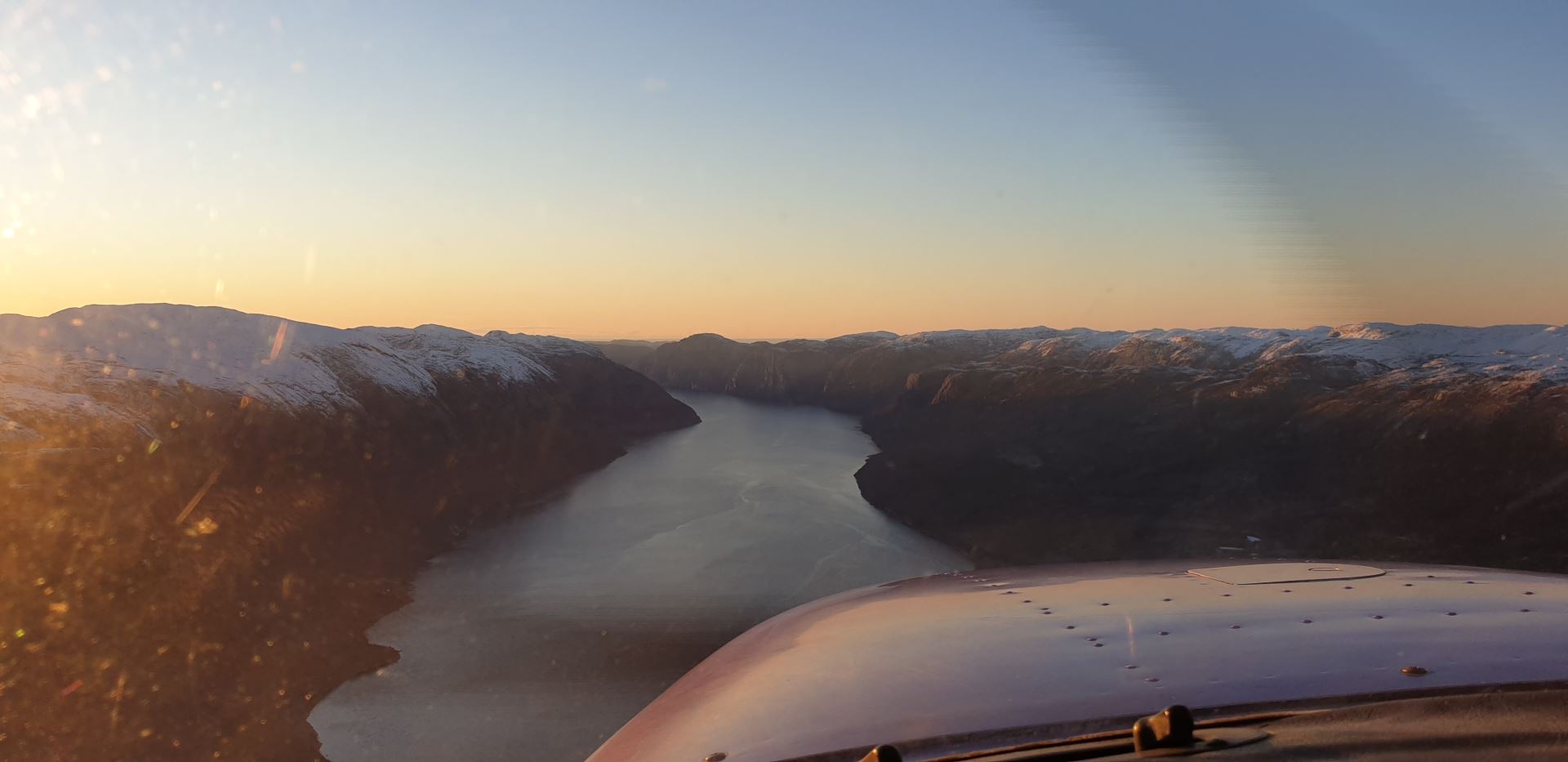 And while there we also got to view the Pulpit Rock (Preikestolen) from the air!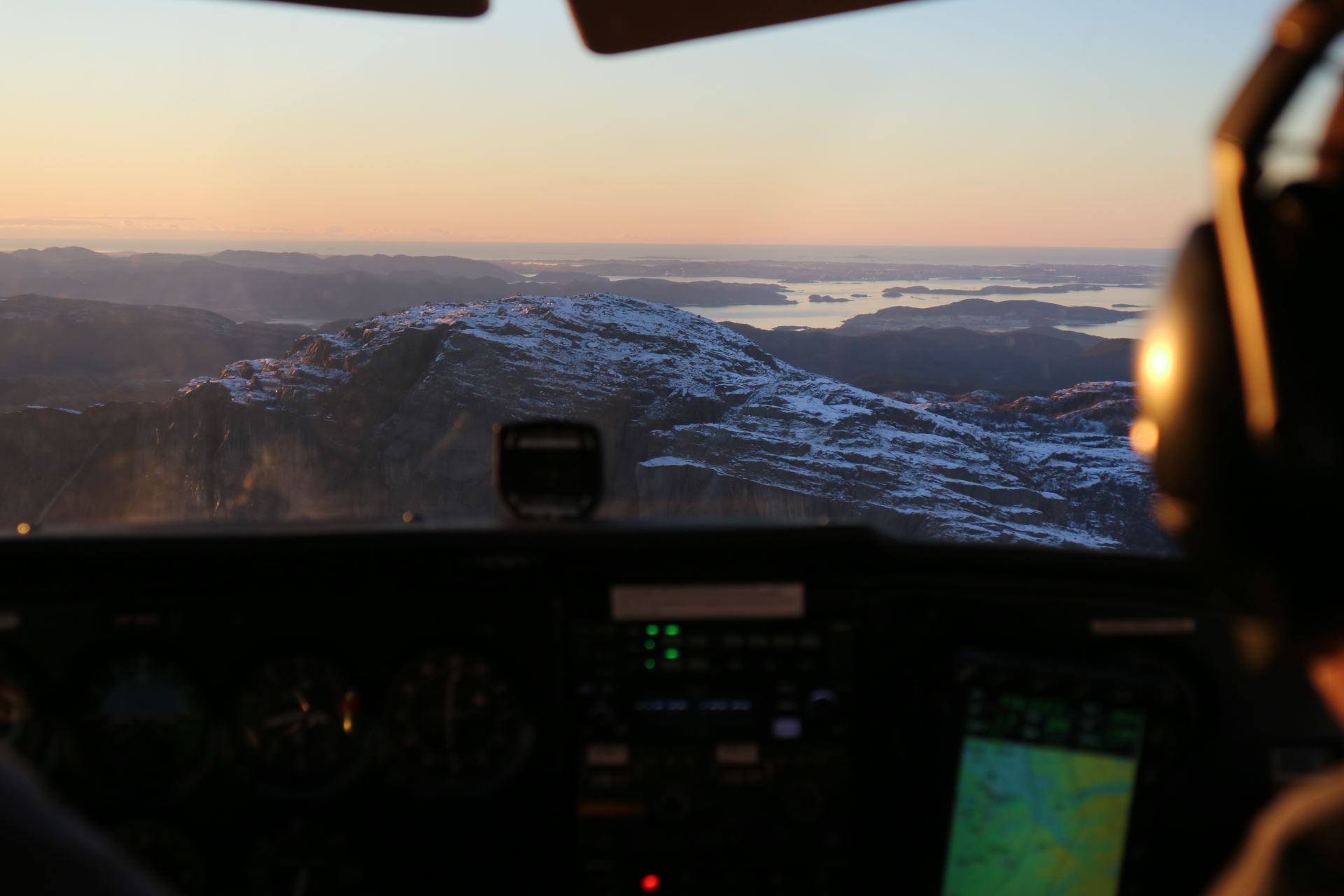 Can't get much better than this! Perfect weather, a successful navigation flight to an airport I've never visited before, some sightseeing, and my wife in the backseat.
Back home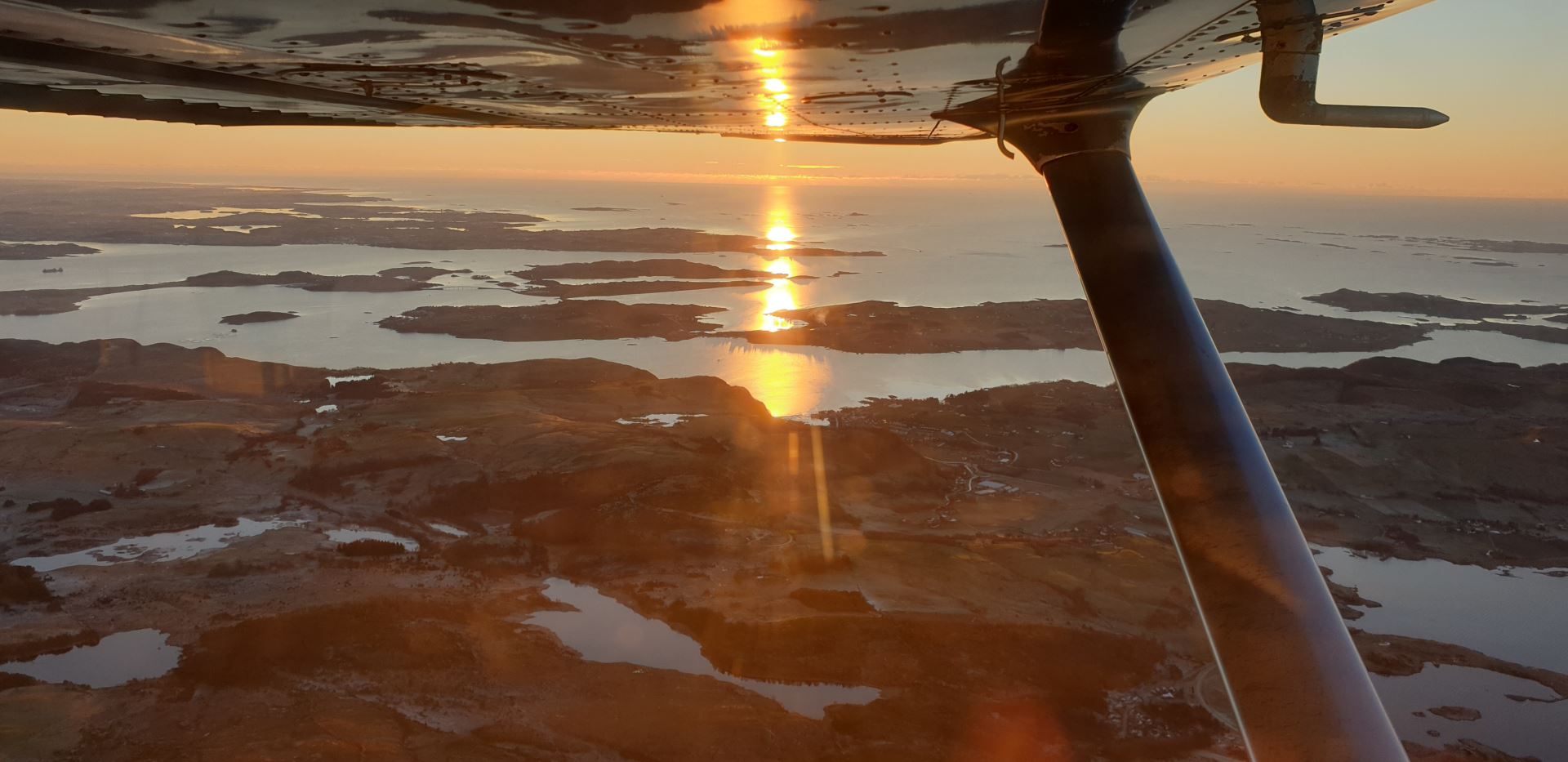 We left not long after sunrise, and arrived back home at sunset - getting the absolute maximum out of the day!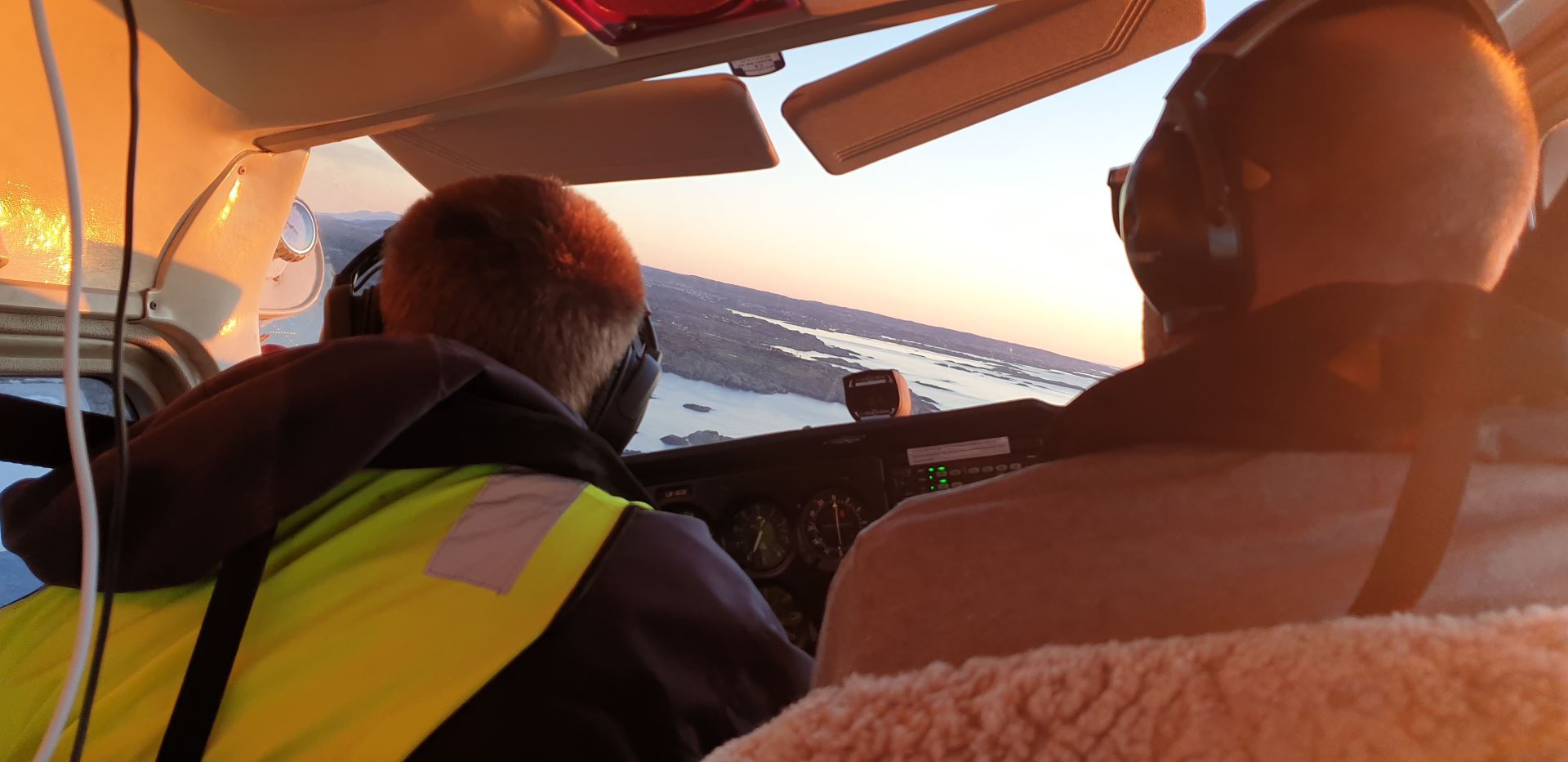 I put the airplane safely back on the ground on Karmøy, and that was it - another lesson done!
Gallery
Flightbook log(s):