Two years ago today I had my first flight lesson, in the form of my discovery flight. One year later I had finished the training, got my PPL, and flown several hours. Today another year has passed, and a lot has happened! On this day, two years after I started flying, I want to look back at some of the highlights during the last year.
Flying around the tip of Norway
Less than half a year after I got my PPL we embarked on a two week long trip with the goal of reaching Nordkapp and Kirkenes. This was equally frightening and exciting. How could I, a brand new pilot, do this?
Turned out I could, well, at least parts of it. We did get to fly around Nordkapp, but the weather prevented us from reaching Kirkenes, this time.
Piloting the aircraft all the way to the northernmost tip of Norway felt amazing. This is freedom. Landing back home after two weeks felt even better. I had done it!
If I can do this, you can too!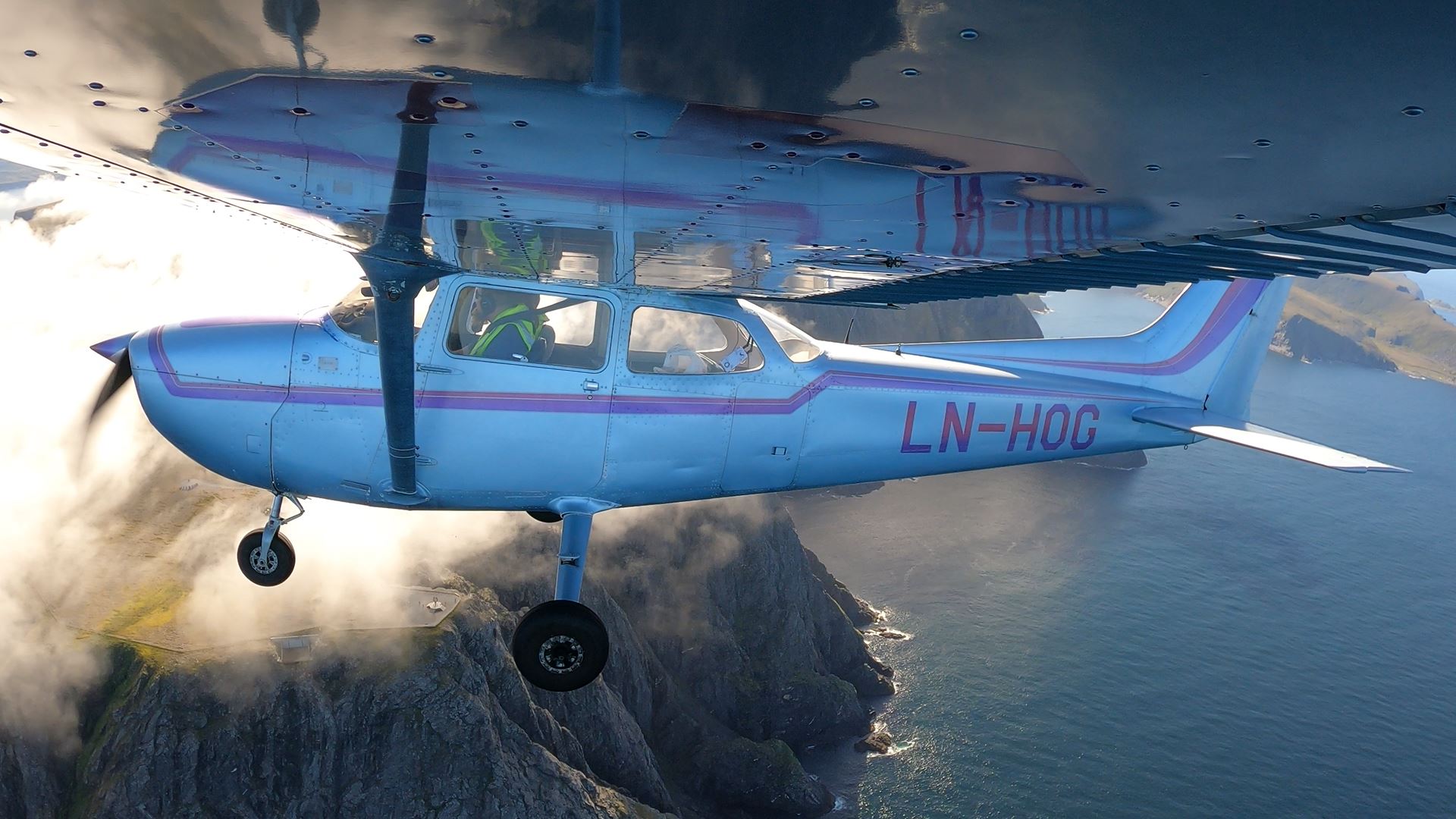 Another pilot license
The airplane I usually fly, LN-HOG, has spent a significant time in maintenance during the last 7-8 months. This made flying as much as I wanted a lot harder than I like. So when I figured out that I could use the SPL certificate as a way to get the TMG rating added to my PPL, I started training in LN-GJP.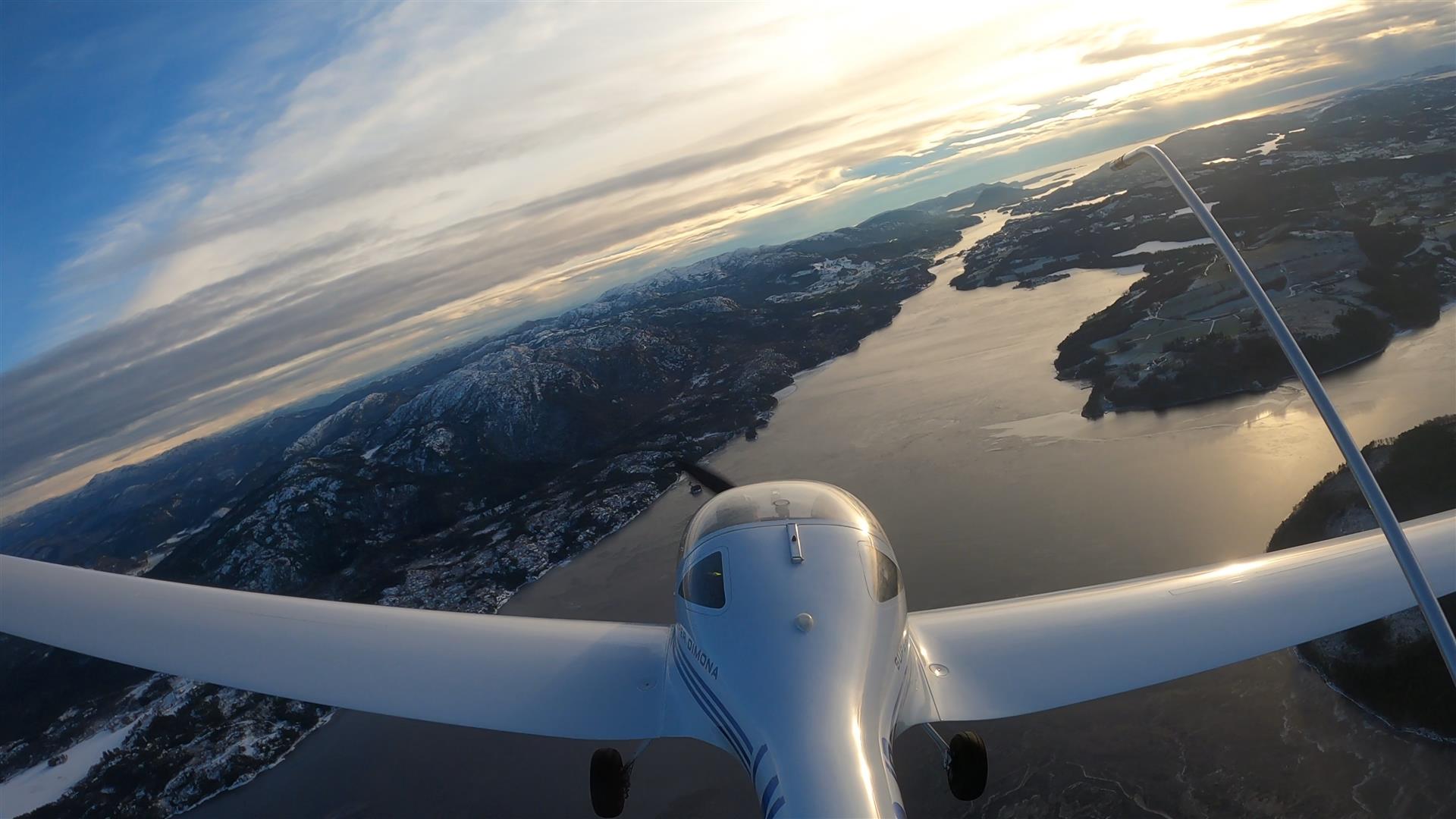 Since this was treated as a conversion from PPL to SPL I needed only about 8 hours to complete the training. So not long after I started, I got my second pilot license - the SPL (Sailplane Pilot License). After sending a copy of it to the Norwegian CAA, I also got the TMG rating added to my PPL. Another goal crossed of the list!
The night rating
As soon as LN-HOG got back from maintenance the first time, I started training for the night rating. I barely got time to finish before it went back into maintenance, and the days started to become too long for night flying.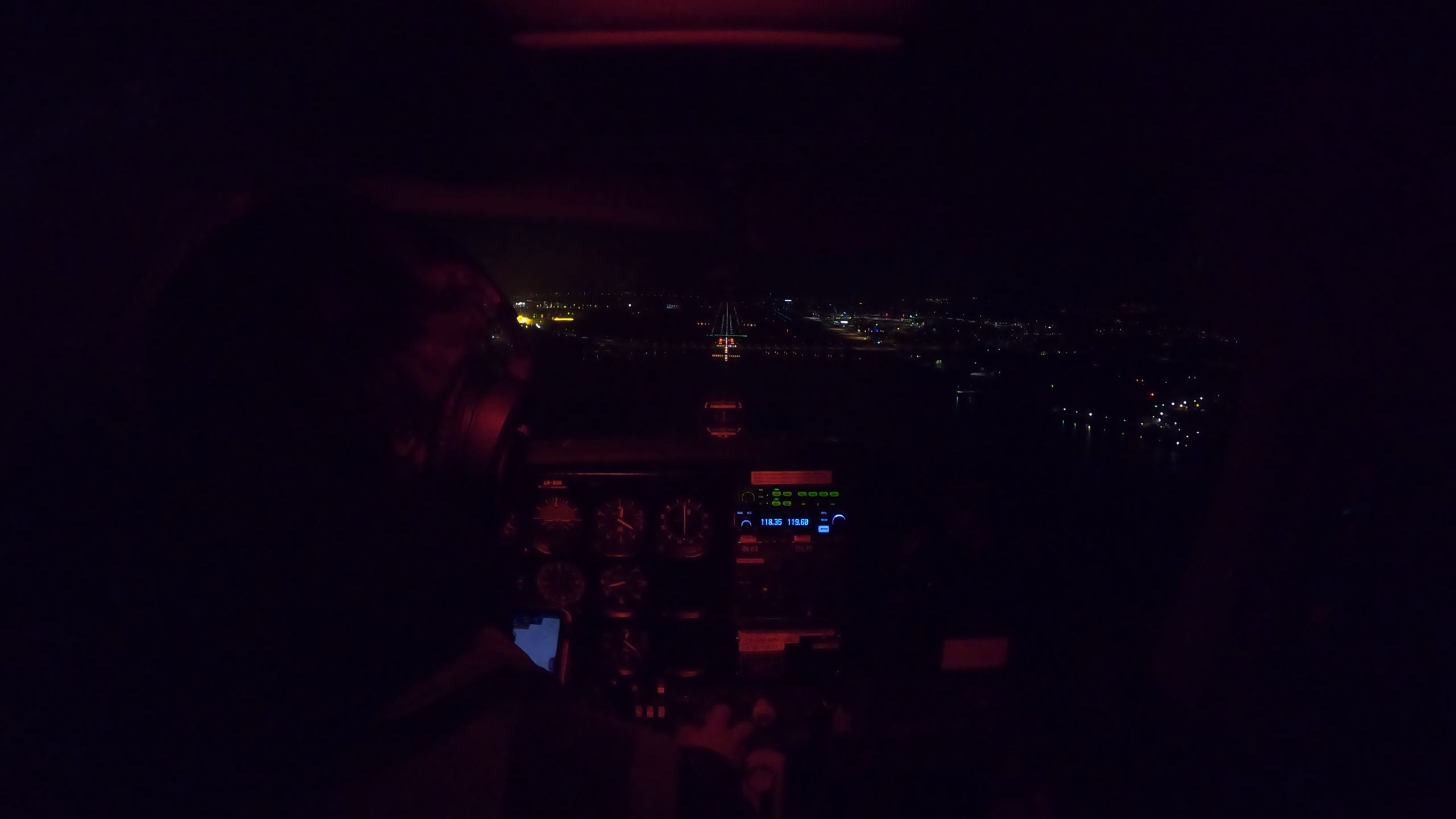 While LN-HOG was in maintenance to get new instruments, I took a training flight in LN-FTD to get the G1000 endorsement. And with that I completed another goal.
This blog
I've written almost 100 posts on this blog since I started, I hope to be able to continue to share my experiences and provide helpful information.
The goal is to inspire others, and hopefully help answer some of the millions of questions you might have (if you're anything like me) when you start looking into this.
The year behind us
I have been in the air as much as I have been able to, although it has been less than I wanted during the last half year.
I love taking pictures, and try to record most of my flights with one or several of my GoPros mounted in random places.
This video is a short summary of the year behind us (remember to watch in 4k):
The year ahead
I still hope I'm able to reach the goal I set last year, and reach 200 hours by the end of this summer.
Last year I wanted to fly several different airplanes, and visit new airports and countries. I've flown several different airplanes, and visited a lot of airports during the last year. I hope I'm able to continue adding both airplanes and airports to the list, and that I'll finally get to cross the border as pilot in command.
Otherwise, the plan is to continue flying as much as possible - because I'm having so much fun doing it! And I hope to be able to bring more passengers, to share the joy of flight with more people.
Some statistics
Since June 22nd, 2021 I've managed to fly a total of 109 hours and 30 minutes, the majority of them as pilot in command.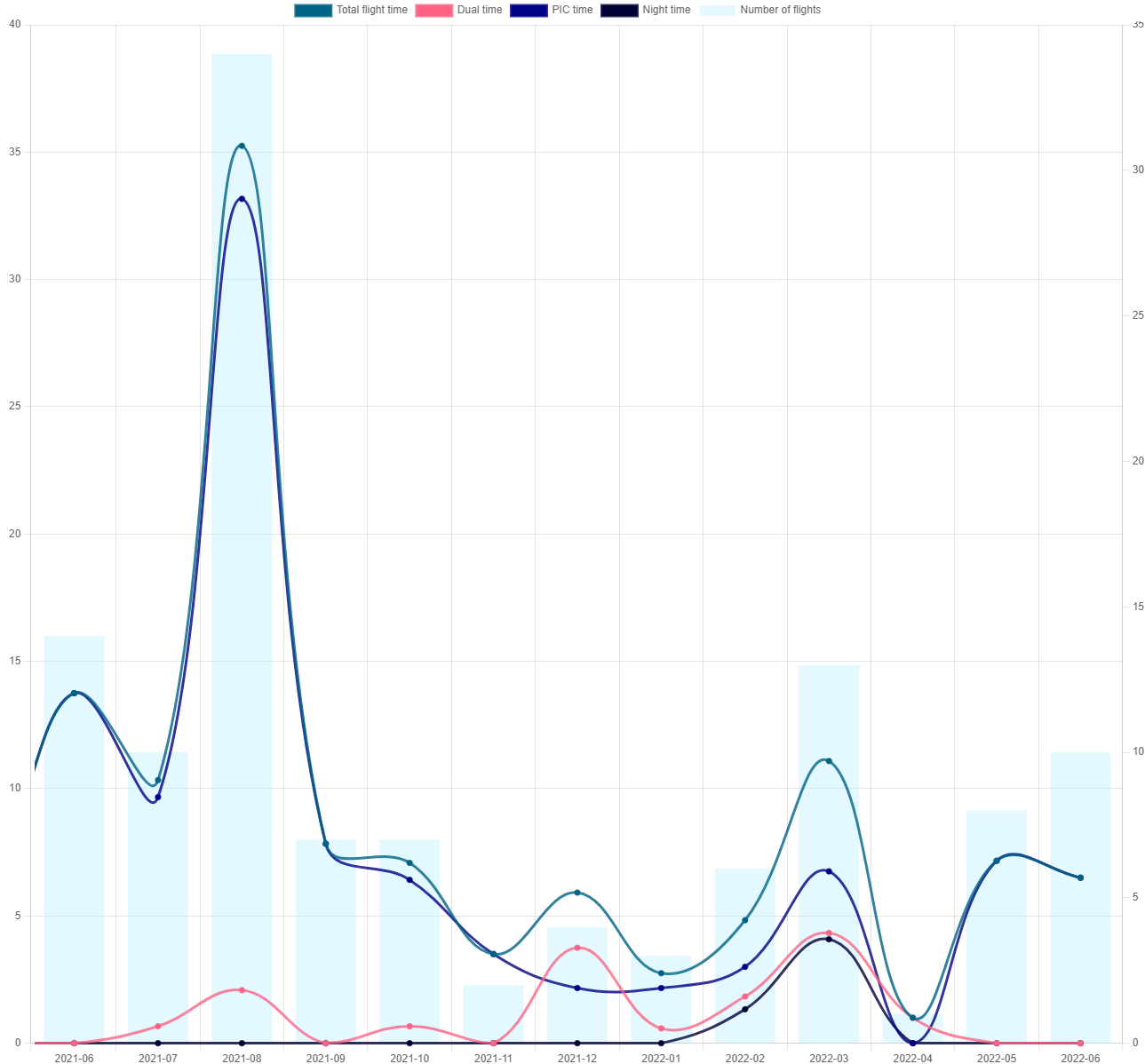 I've visited a total of 30 airports, and flown a total of 5 airplanes (LN-HOG, LN-GJP, LN-NPK, LN-FTS, LN-FTD) during the last year.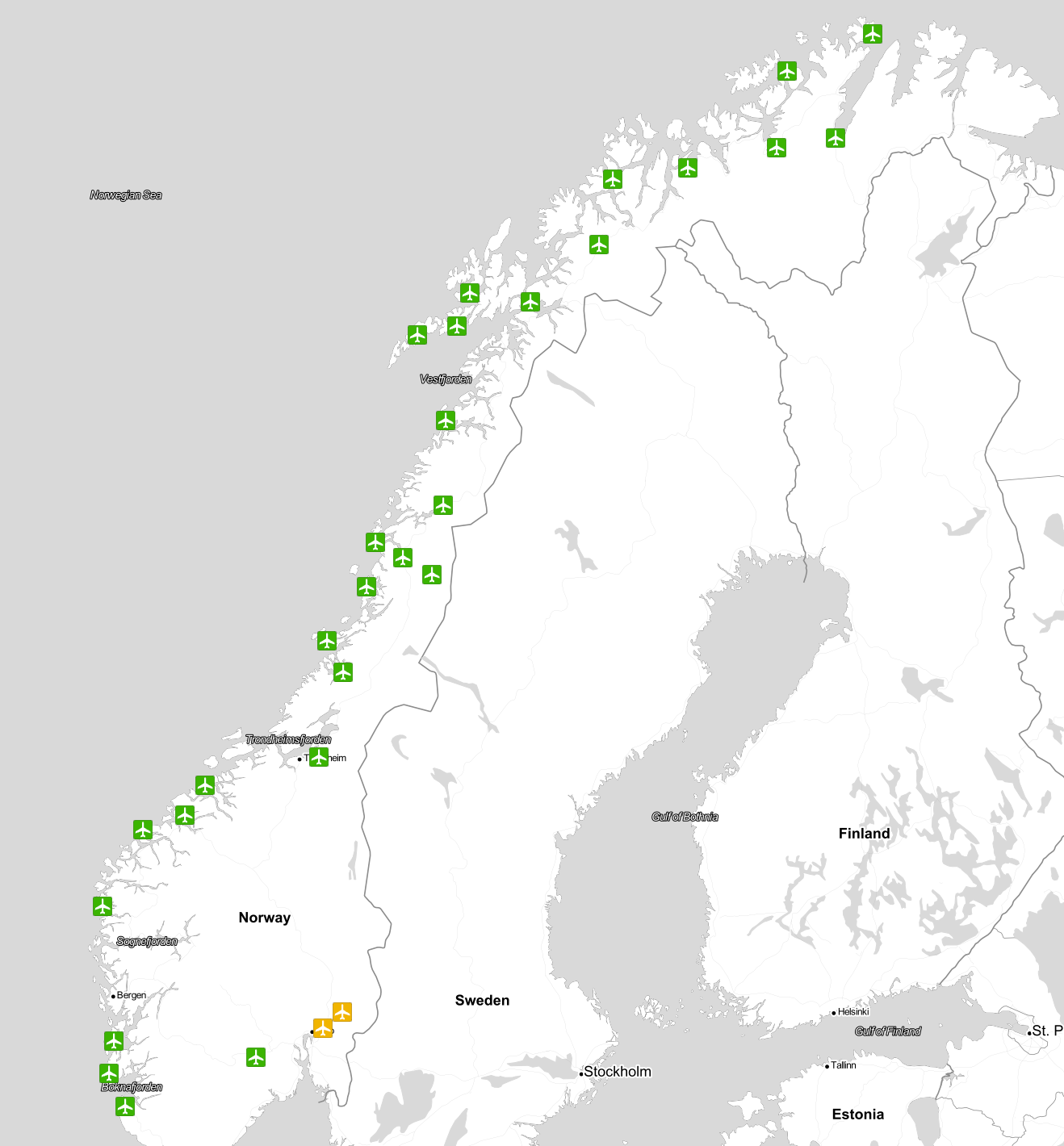 Details and tracks from most of my flights can be found in Flightbook